by Nebula Haze
Hands-down the best way to control the smell of your growing cannabis plants is to use a carbon filter (learn more about different options for covering up cannabis growing smells). When installed correctly as part of an exhaust system, a carbon filter will not only prevent the smell of cannabis from leaking outside, but it will also prevent it from smelling up your home. A carbon filter can be more effective than any other method for controlling smells, and it won't alter the smell of your cannabis.
A carbon scrubber can completely hide the smell of growing cannabis plants, even really smelly ones!
A carbon filter is usually shaped like an enormous tube, and they're usually pretty heavy. The way they work is they are filled with carbon inside. When air passes through the carbon it neutralizes any smells, and when the air is passed out the back it is completely odor-free. However, for a carbon scrubber to work the air needs to be pulled through the filter, which is usually done using a strong exhaust fan.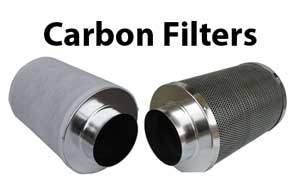 In the left pic the carbon filter has a sleeve to help keep out extra dust, while on the right is a "naked" carbon filter so you can see how air can pass through the sides.
When using a carbon filter, the way you set up your exhaust is important; if you don't set it up properly it won't work well, if at all!
Get a Carbon Filter on Amazon.com!
1.) To Prevent Smells From Leaking into the Grow Room
The exhaust fan needs to be strong enough to create a vacuum in the grow space (in a grow tent you'll see the side bowing in). That means that all the smelly air is getting vented out the tent so fast that the suction prevents any from going back into your room. Even without a carbon filter, if you have good suction you won't smell anything outside the tent!
Learn how to set up an efficient exhaust system

2.) To Prevent Smells From Leaking Outside
Once you have suction in the tent and you're venting all the smelly air outside, the next step is to "scrub" smells out of that air before it leaves the house. This is where the carbon filter comes in!
This is the most common way to set up a carbon filter:
Carbon Filter > Grow Light > Exhaust Fan > Outside
This simple diagram shows how many growers set up up their exhaust system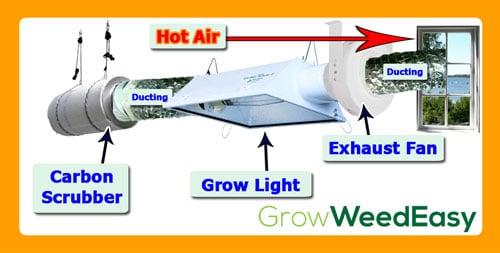 This is an example of a carbon filter in action
​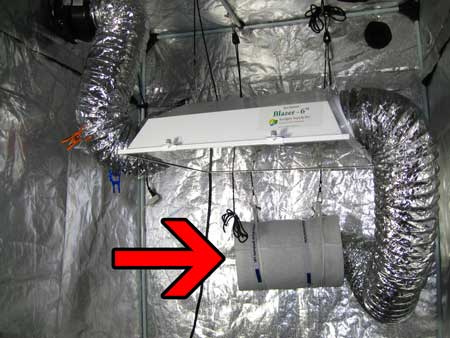 Get a Carbon Filter on Amazon.com!
As air is pulled in through the sides of the carbon filter it is scrubbed of all smells. That air then passes through the ducting, blows over the hot light, and the hot unscented air is then vented outside.
No air leaks in your exhaust system! It's important that the only way air can enter the system is through the carbon filter, and that air should go straight outside. If there are leaks in the ducting or around the grow light, then smelly air can escape that way instead of passing through the carbon filter first.
That's pretty much it! You now know the basis of how set up your own effective and efficient exhaust system so odors never escape again!
Get step-by-step instructions on how to set up your carbon filter with exhaust
---
Jump to…
7 Tips to Growing Top-Shelf Buds
How to Set Up Your Grow Lights – Step-By-Step Tutorial
Stealth Growing: How to NOT get Caught Growing Weed
How (and Where) To Get Marijuana Seeds in the USA (and around the world)
---