by Nebula Haze
Did you know a lot of cats (and dogs) love cannabis leaves? Every cat I've owned loves to nibble on my plants if given a chance. I've heard the same from many other growers. One day you check on your garden only to see cat-sized bites all over your plants!
No kitty! Not my weed plant!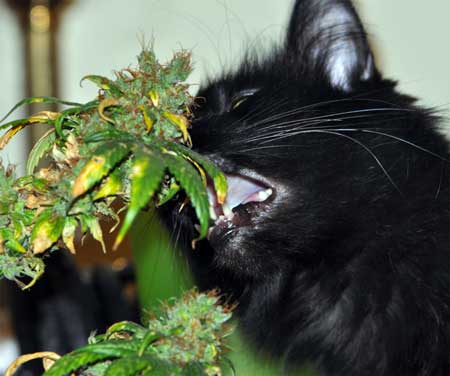 This cat is 2 seconds away from taking a bite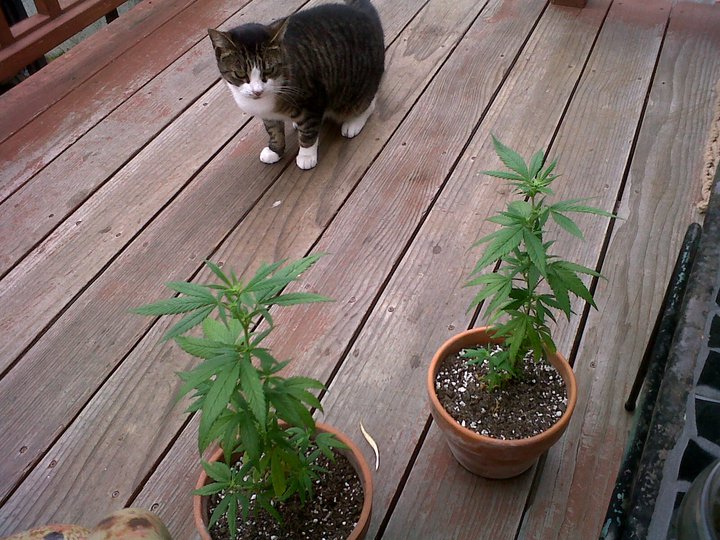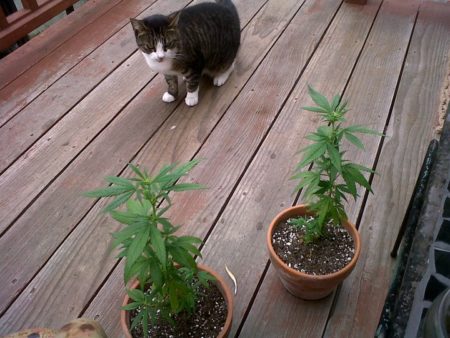 Why do cats love cannabis leaves?
I realized my cats loved cannabis leaves many years ago when one snuck into my tent and ate half of my plants. I was so angry at the time but it seems funny now. They eventually learned not to eat leaves off the plants and instead sit patiently next to me as I work in the tent. I reward good behavior with free leaves at the end. My cats go crazy if they see any leaves in my hands because they know they're getting a treat.
Am I a bad owner for letting my cat eat leaves? She's 13 years old now, and I feel like she seems happier after eating leaves. Yet could it be in my head?
I'm not sure whether cats love leaves because of cannabinoids, the leaf texture, the fact they just like nibbling on plants, or something else. I've heard from other growers that some cats seek out weed plants, while other cats don't seem to have any interest. Every cat is different.
Is cannabis bad for cats?
I wish I had an answer for you but I am not certain. I'm not a veterinarian and I have no medical background. I only know what I've seen, read, and heard from other growers.
For example, I've read online that cannabis buds are bad for cats. Yet my cats only eat the leaves. Even if it seems they're going for a bud, they only nibble on the leaves around the outside.
I've never seen any evidence that eating leaves can hurt cats, and I've spoken to dozens of growers who've noticed their cats (and dogs) love taking bites out of the garden without any apparent harm. But those are anecdotes, not proof.
This is me trying to watch my plants grow. 😂 ~bjazzzled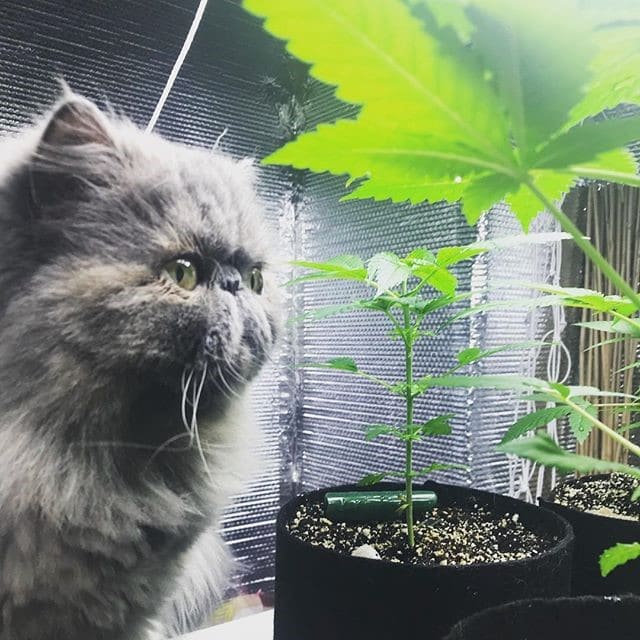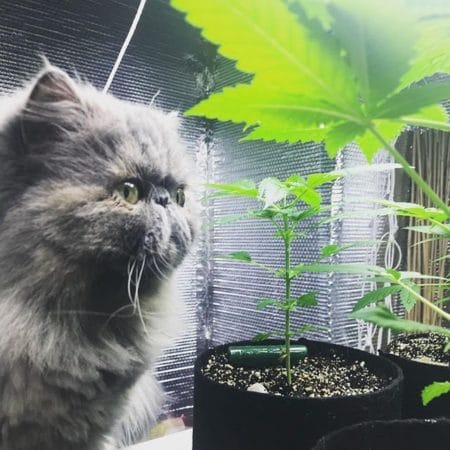 There are reports that CBD and other cannabinoids found in weed or hemp have therapeutic effects for cats (and dogs). As a result, there are many CBD products aimed at helping pets feel relief from pain, anxiety, inflammation, or other ailments. The most common "treatment" is CBD oil, which is concentrated oil from a cannabis or hemp plant grown without significant amounts of THC. Many people believe CBD oil helps their pet appear more comfortable and relaxed, but unfortunately, there aren't many scientific studies or evidence to prove the effectiveness or safety of CBD one way or the other.
I personally have found that both CBD oil and fresh cannabis leaves seem to help my elderly cat seem more relaxed and happy, but I don't have any evidence to prove that. I haven't noticed any adverse effects. I've spoken to other growers who've experienced similar results. However, I've also read reports online that some cats react poorly to high doses of CBD oil so like all new things, moderation is key. And of course, always contact a veterinarian with any medical questions about your pet.
The Challenge of Growing Weed Around Cats
Almost all plants have to deal with herbivores in the wild. This tendency for leaves to be eaten may be part of why some plants are so resilient to defoliation and may even react favorably to certain types of defoliation. But who knew a cat might be a cannabis predator?
Common cat owner challenge – your kitty tries to sneak a bite when you're not looking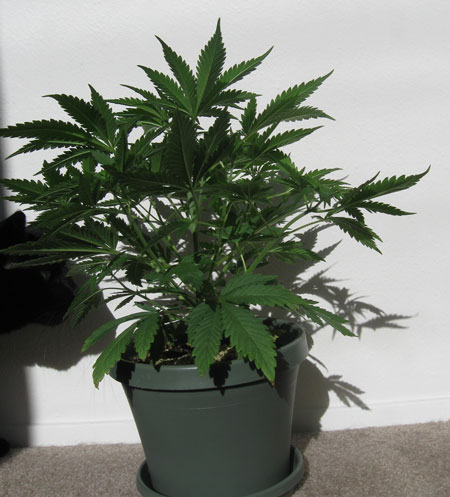 My current kitty doesn't seem to like leaves with trichomes on them. She prefers plain leaves. I'm not sure if that has to do with cannabinoids, smell, or if she just doesn't like the texture of sticky trichomes on her tongue. The bonus is that my plants are safer after they start flowering.
My kitty staring longingly at this little marijuana plant I grew in a sunny window. She wants a bite but she knows better by now!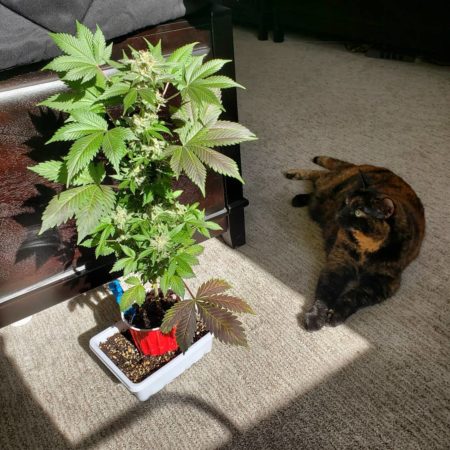 I decided to grow a plant with no THC just for her. It's currently about 3 weeks old and she already approved of the first leaf I gave her 🙂
A Pink Kush CBD autoflowering plant I'm growing just so my cat to enjoy the leaves. She's so lucky!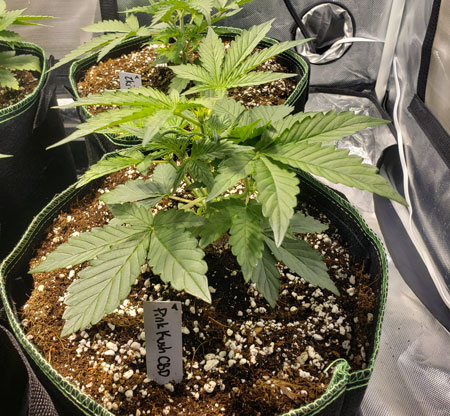 Warning: Many dogs and bunnies also love eating cannabis leaves!
This bunny loves her greens 🙂
Oh no! What happened to this garden?!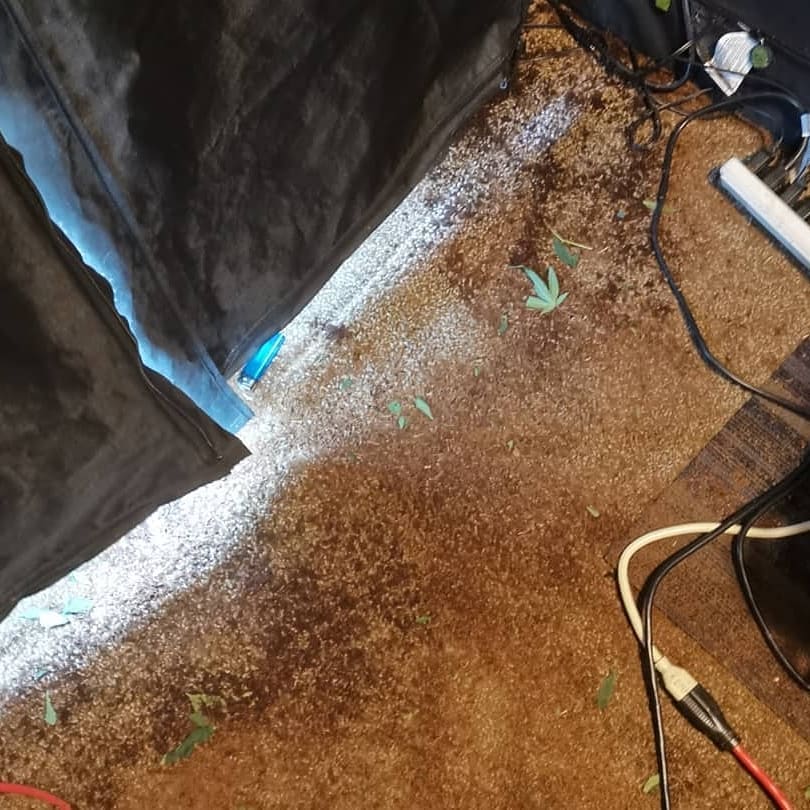 The plants were devastated by an excited puppy [Pictures by @big_f_grows). Don't be too hard on errant pets, we all know what it's like to love cannabis!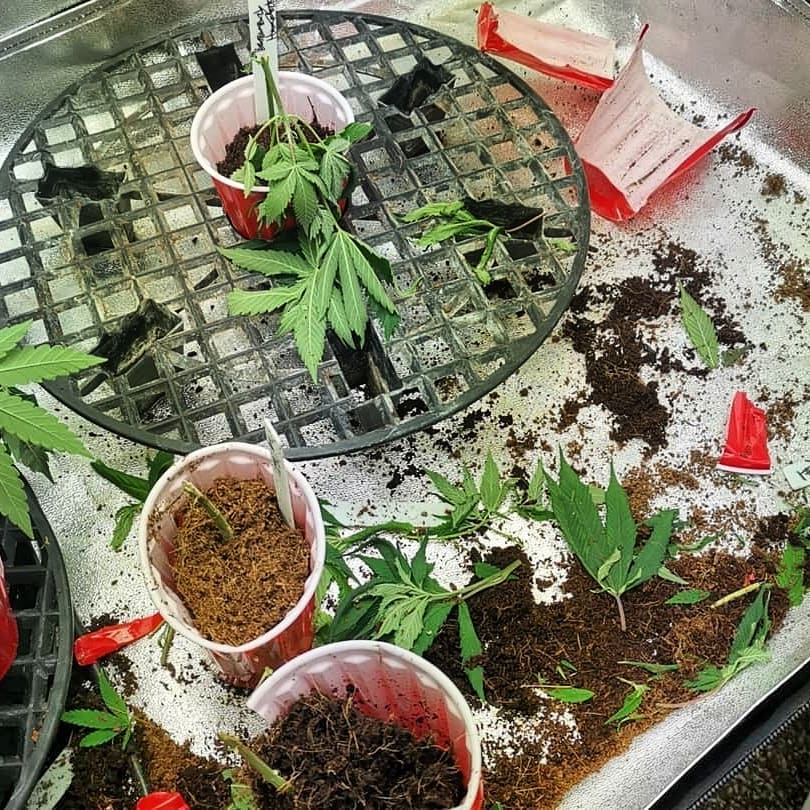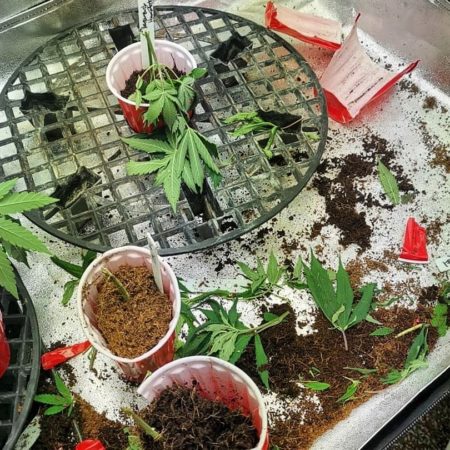 Now that is one happy dog!