Cannabis deficiencies and other cannabis leaf symptoms can be a headache for any grower. Luckily, many weird weed leaf spots, marijuana leaves turning yellow, the whole marijuana plant turning yellow, and other strange cannabis leaf deficiencies can be fixed by getting a good nutrient system that is formulated for plants like the tomato.
Although cannabis nutrient deficiencies can be prevented with good cannabis-friendly nutrients (learn which nutrients work for preventing marijuana deficiencies) it's also important to maintain a proper pH in order to prevent marijuana nutrient deficiencies and weed leaf symptoms. If you're using good cannabis nutrients but you're still seeing cannabis leaves with spots or cannabis leaves turning yellow, it's probably the pH so act immediately!
View pictures and descriptions below of all the common marijuana nutrient deficiencies, marijuana problems and other weed leaf deficiencies. Don't let weed growing problems hurt your plants, get the solutions!
---
Pests, Bugs & Viruses
by Nebula Haze
Unfortunately, bugs and other garden pests can totally mess up your marijuana harvest!
This page aims to be a comprehensive resource on the different types of bugs / pests / mold that can affect your marijuana crop, along with tips for preventing and solving each problem.
Pests that can affect your marijuana plants include aphids, fungus gnats, thrips, green flies, black flies, mosaic virus, spider mites, caterpillars, inchworms, whiteflies, white powdery mildew / white powdery mold, stem rot, and even mammals such as deer or cats!
It's time to fight back against cannabis bugs, mold and pests!
Quick Tip! Whenever you spray plants with anything, make sure to get the undersides of the leaves too, as this is where many pests like to hang out! A one-hand pressure sprayer / mister is also really helpful for spraying leaves.
---
Aphids
Aphids live under leaves & have different forms depending on their stage of life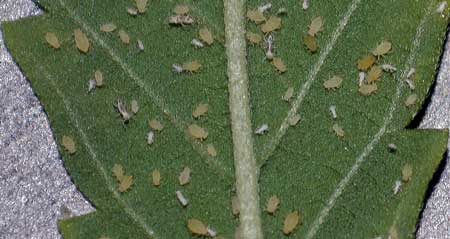 Barnacles / Scale Insects
These bugs that look like barnacles and stick to the plant on stems and underneath leaves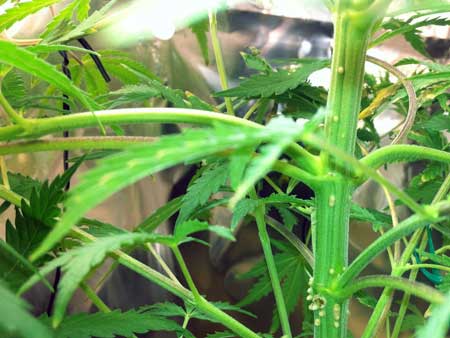 Broad Mites or Russet Mites
These mites are so small you will likely never see them even under a magnifier. However, you can tell your plant has been infected because your new leaves will be blistered, twisted and glossy. The overall plant will also be growing poorly and if it's flowering the buds may turn brown. Broad mites and russet mites are often mistaken for other problems like nutrient deficiencies, heat stress or pH problems.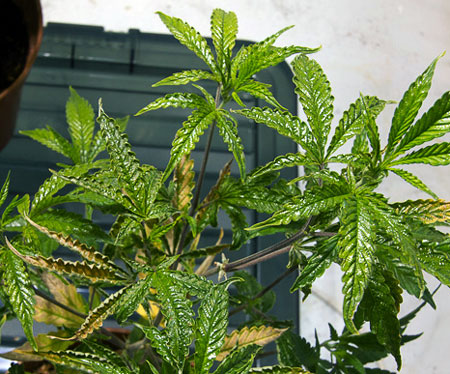 Bud Rot or Mold
When bud rot strikes, certain buds may start looking sickly overnight, with leaves turning yellow and/or bud becoming discolored. When opened up the inside of the bud is dead or moldy.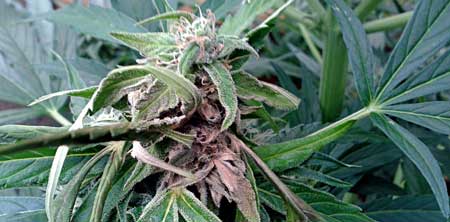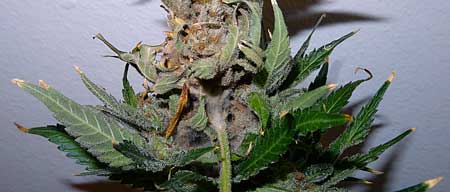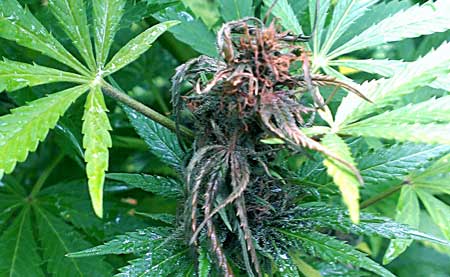 Caterpillars, Inchworms & Cabbage Loopers
Caterpillars and worms eat holes in leaves and leave droppings that look like black specks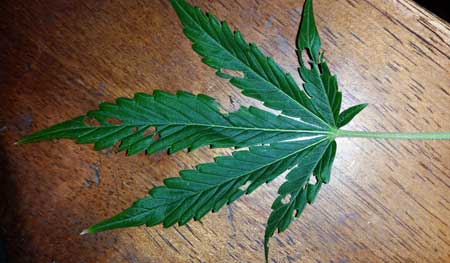 Crickets
"Regular" crickets will munch on your leaves while "mole crickets" can tunnel under your plants and disturb their roots!
"Regular" Crickets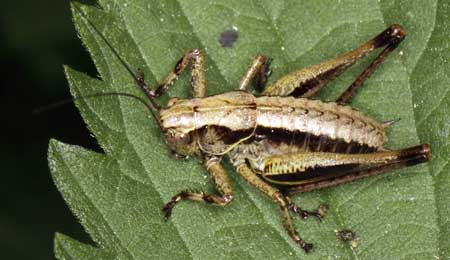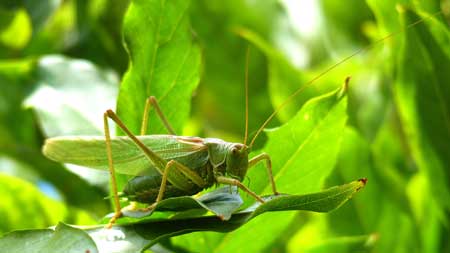 Mole Cricket – these can tunnel under your cannabis plants like moles

Fungus Gnats
Fungus gnats look like tiny dark flies. They hang around soil that stays wet for long periods of time, and their worm-like larvae crawl around in the wet top soil. Plants start getting sick if a gnat infestation gets out of control.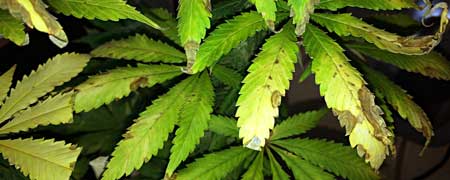 Grasshoppers
You've probably seen these before, but these seemingly harmless garden creatures will happily eat your cannabis leaves!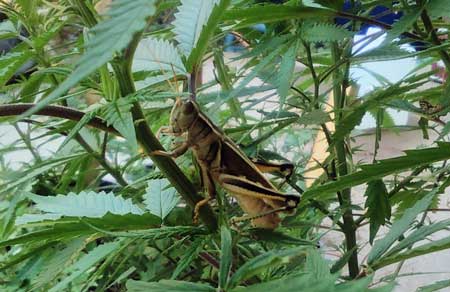 Leafhoppers
These bugs come in almost every color known to man so sometimes it can be tough to tell what they are just from looking. However, they all make clusters of spots on your leaves where they've sucked out all the sap, so if you see spots like this you know you've got leafhoppers!
Leaf Miners
Leaf miners are larva that actually live inside your leaves and tunnel through them to eat!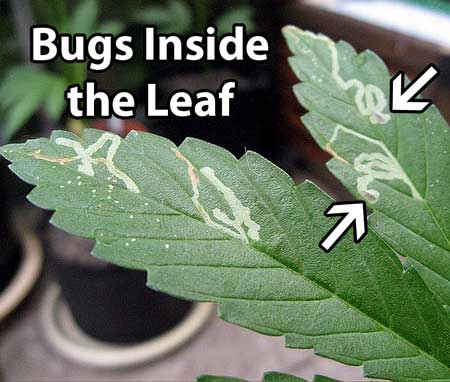 Leaf Septoria / Yellow Leaf Spot
This fungus causes round yellow or brown spots, with symptoms often starting on lower parts of the plant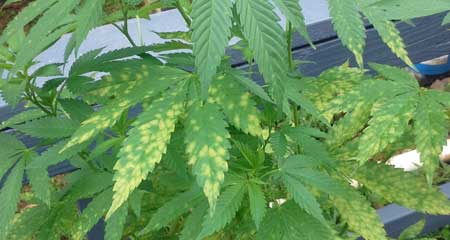 Mealybugs
These tiny white bugs look "hairy" and are found crawling on leaves and buds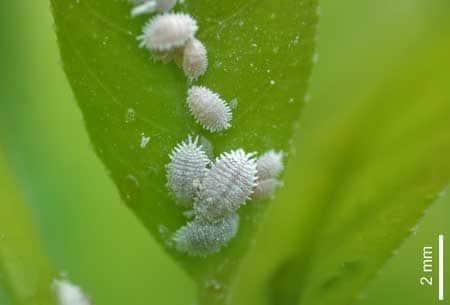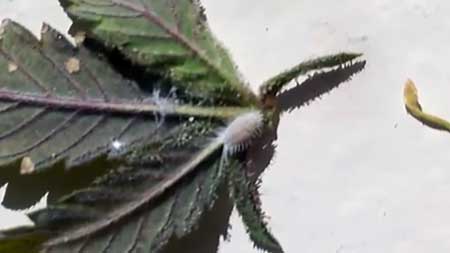 Root Rot
Root rot is a common problem in hydroponic systems though overwatered plants in containers often display similar symptoms. Plants with root rot wilt and leaves may become discolored. In the reservoir the roots turn brown, smelly and slimy.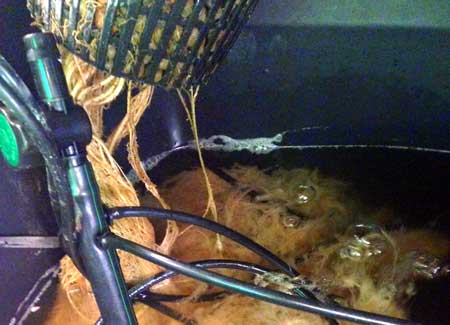 Slugs / Snails
Slugs and snails usually come out at night, leaving holes in leaves which have scalloped edges from their individual bite marks. They also leave slime trails on leaves and on the ground.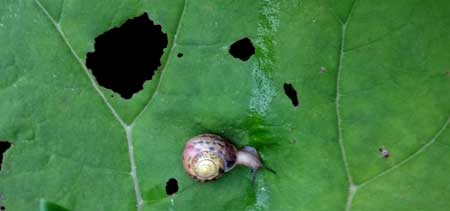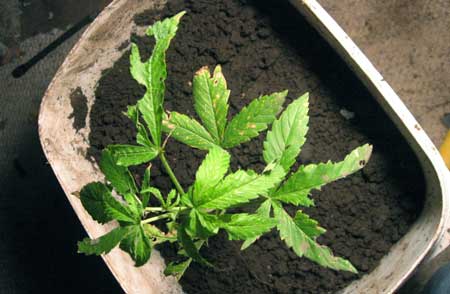 Spider Mites
Spider mites are often caught from another grow room, and their bites leave small white speckles all over your leaves. They're so small they can be hard to see, though the best place to look is underneath leaves. You may see webbing if there's enough of them living on the plant.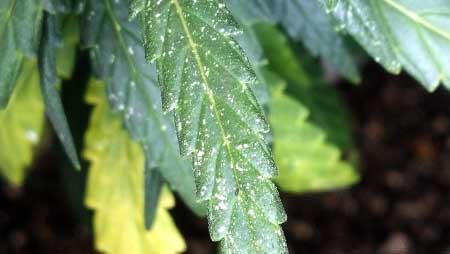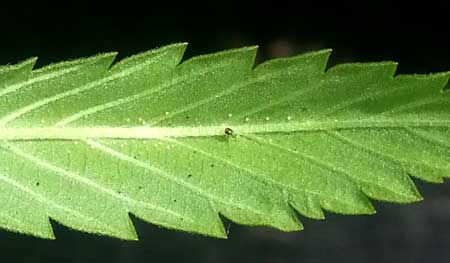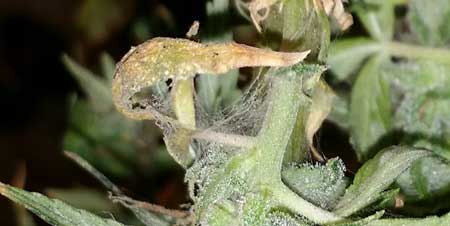 Thrips
​Thrips leave irregular bronze or silver marks that may look like "dried spit" or tiny snail trails. Their young look like fat, tiny worms.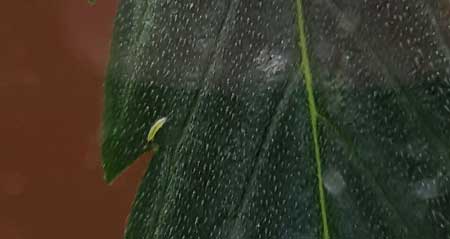 Tobacco Mosaic Virus
It's not known whether mosaic virus has jumped from tobacco to cannabis plants, but in this article I'll share what I've learned so far…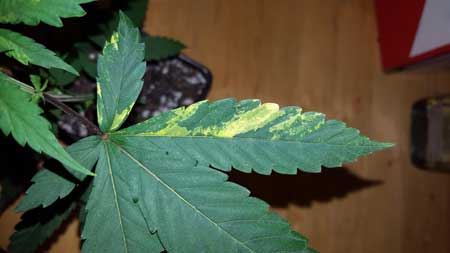 Whiteflies/ White fly
Whiteflies look like tiny white moths and hang out under your cannabis leaves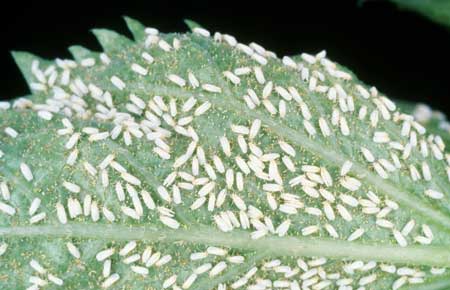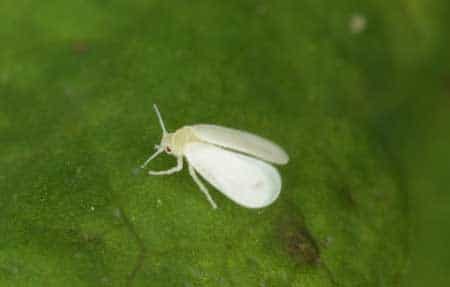 White Powdery Mold
WPM leaves a white powdery substance that looks like flour or powder on leaves and stems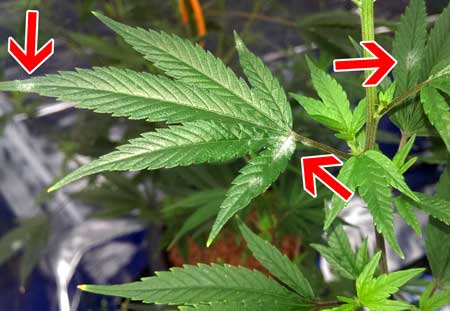 ---
Don't see your bug here? Send us a pic!
---
Jump to…
7 Steps to Cure 99% of Marijuana Growing Problems
Beginner's Guide to Growing Weed
---
Phosphorus Toxicity
Problem: Marijuana loves Phosphorus and is unlikely to show signs of toxicity. It takes several weeks for a plant to start showing signs, and will mostly show signs of other nutrient deficiencies as the phosphorus locks up other nutrients. Click picture below for more information about phosphorus and your marijuana plant.
Solution: If you maintain a proper pH, it's very unlikely you will overdose your plant with phosphorus. If you suspect your plant may have had too much phosphorus, the best thing to do is flush the plant with lots of clean, pH'd water at half nutrient levels.