It's easy to find which US states have legalized weed, but harder to determine where it's legal to grow your own weed at home. I decided to put that information in one place. I'm not a lawyer or legal expert, but I've compiled information about growing laws in the United States. I've included further resources so you can delve deeper into your local laws. If you have any doubt whatsoever, I always recommend talking to a lawyer before you decide to start growing weed.
~Nebula Haze
P.S. Learn where growing weed is legal in other parts of the world.
Map Last Updated April 2, 2021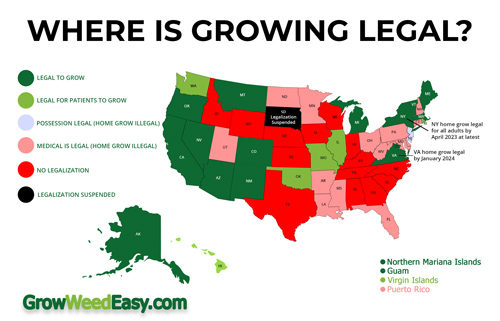 FOR INFORMATIONAL PURPOSES ONLY, WE ARE NOT LAWYERS OR LEGAL EXPERTS ON CANNABIS GROWING LAWS. PLEASE DO YOUR OWN RESEARCH AND CONSULT A LAWYER BEFORE YOU START GROWING WEED. LAWS CHANGE!
About Cannabis Laws in the USA
While cannabis is illegal at the federal level in the USA, many states have enacted various levels of legalization. It is extremely rare for individual people to be targeted by federal law enforcement if they are legal in their own state, however IT IS POSSIBLE.
I highly recommend the Marijuana Moment newsletter to stay up to date with the latest legalization news in the United States. NORML is another great source of current news about U.S. cannabis legalization.
WARNING: LAWS CHANGE. Click the state link for more information about what's currently going on in your state. Here are laws for home marijuana cultivation in the United States:
Cannabis is Legal for Adults & Growing is Legal
Cannabis is Legal for Adults (But Growing is Not Allowed?!)
This type of legalization is shameful. Big companies profit from selling cannabis to adults, but adults are jailed for growing their own weed.
Growing is Only Legal for Medical Marijuana Patients
Medical Marijuana is Legal (but home growing is not)
No Significant Legalization (plus recent updates)
Note: I don't count legalizing CBD as significant legalization