by Sirius Fourside
2015 is already around the corner! This is the time of year where people tend to get introspective and look to make positive changes in the upcoming year. At GrowWeedEasy.com, we're always looking for ways to change our grows to make them better and more enjoyable.
One way we get motivated is to check out some of the pictures our readers send in! We're always surprised at how adept our readers are, even on their first tries!
Today, we're going to give you a big ol' helping of some of the amazing pics we've received from readers just like you! If you haven't started growing yet, these pictures should help get you motivated to get started growing! If you're already an active grower, keep on growing and enjoy some great pics!
And now, in no particular order…
---
redice: "Look what GrowWeedEasy.com taught me!! Great many Thanks to the founders Nebula Haze n Sirius Fourside!!..sex n strain unknown. Grown from native seedlings. Wk4"
---
Lu The Gardener: "Strain: Northern Lights from Nirvana. First time grow. LST & Defoliation. Plant Age: 76 days old Seedling: 12 days Vegetative:48 Days Flowering: 16Days Lights CFL Lumens 15000"
---
Sirius: Make sure you click the thumbnails above to see the full-sized versions of these pictures!
Dr. Dino: "Sensi Star is one of the strongest Indica's you will ever encounter. It's a great plant, producing powerful and very compact buds, crowned with legendary amounts of resin. Although mostly Indica, she retains a complex high that warps both body and soul."
---
West Coast Grow: "My second grow project. Platinum Kush x Blackberry (left) Grapefruit x BC God Bud (right)"
---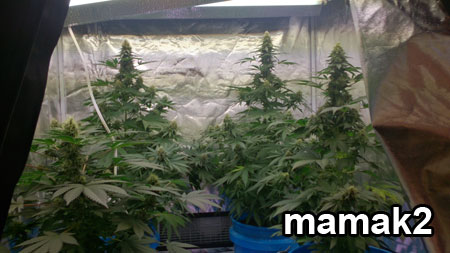 mamak2: "This is my first crop of botanicals!"
---
chris: "Hey guys here is a variety pictures taken most of them are Tangerine Dream Barneys Farm just starting to flower one of them is outdoors and the rest are inside in a small 4×2 tent under 2 Apollo horticulture 180 watt ufo leds we are in week 1 of flowering will update with more pictures."
---
Jonathan Covert GrowOps: "Strains shown .. in purple is Donatello's flower ( heavy PCK ) .. other is purple Widow. Pre98 Bubba kush grown under HPS/LED combo."
---
Stoner McGee: "You have mentioned the use of Method Seven glasses before and I thought I would show the differences when used in a LED grow. The greatest drawback is they are expensive ,but when viewed as a long-term investment they are quite reasonable. The damage done to vision by LED lighting is a hotly debated topic but why take the chance? Even if there is no damage done, the clarity of vision with these glasses makes them well worthwhile.
The second picture was taken using the glasses and shows some Ghost Train taken during the third week of flowering. I have no idea about this strain. I was given the plant by a friend who had too many plants growing for his room. He either had to kill a couple of plants or give them away. They were already 3 ½ feet tall when I got them. My grow space is small and I had to do some heavy-duty supercropping and I also wrapped the plants both vertically and horizontally with chicken wire to slow down growth."
---
Leankey
---
Clan Cannabis: "Here are some of the ladies in the veg tent. I just found out about your defol method today, so forgive the number of tops. :)"
---
c21h30o2i: "I want to thank you guys again for the wealth, of knowledge you provide. These wouldn't be possible without your guidance and amazing advice. These are from Sweet Seeds Red Poison and Nirvana's Bubbelicious. Average dry yield 3oz. per plant. 6 plants under a 600 watt HPS in an Apollo tent. Happy Holidaze!!!"
---
Jude: "I don't remember the strain, but this was grown outdoor, organically and photos were taken a few weeks before harvest. The only things I gave this plant (or the others I grow) were virgin soil and molasses at flowering. Produced great clean, chemical-free bud. Watch what you give your plants, if it isn't fit for food crops, you definitely shouldn't be smoking it!"
---
johnboi: "Pictures of original amnesia about 2 weeks from harvest. All grown in canna coco, using canna nutrients. 1.2×1.2 tent with 600hps. 1st time grower & I've enjoyed every min of the time it took to grow. This site has helped me so much. From planting my seeds right through to harvest. Any problems I've had you seem to always point me in the right direction in solving it."
Where Can I Get These Genetics?
Looking for the strains you saw earlier? Get the genetics used in a picture above, or venture out on your own and try something new!
Follow the below links to get your own
Method Seven Light Filtering Glasses for HPS or LED!
---
Jump to…
Where can I buy cannabis seeds safely?
How long does it take to grow cannabis?
When do I harvest my marijuana?
---