Question: Is there any way to force my female plant to hermaphrodite? Also, she's showing pistils / white hairs in the vegetative stage…
I recently received some bags seeds my friend claimed were Chocolate Thai. My one female plant has been in vegetative state for approximately 8 weeks under a 15 to 18 hour light schedule. But she's starting to show signs of flowering ! What gives? Could it be an auto flowering strain?
Answer: Let me answer both your questions.
First, this tutorial will show you how to force a plant to make feminized seeds. I believe that's what you mean by forcing the plant to hermie:
https://www.growweedeasy.com/how-to-make-your-own-feminized-marijuana%20seeds
Second, as far as the early signs of flowering, it's completely normal for plants to show a few white hairs / pistils during the vegetative stage once the plant is 6-8 weeks old.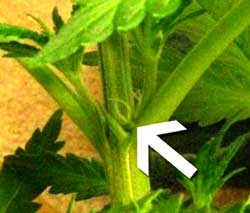 These "preflowers" often appear at the "joints" of the plant (pictured to the right). This is a sign that the plant is mature and ready to start flowering. However, she shouldn't grow more than just a few of these preflowers as long as she's getting 14+ hours of light a day.
Female preflowers can appear when the plant is still in the vegetative stage. This is most common when plants are mature (older than 6-8 weeks from seed), or when growing clones from a mature plant.
If your plant starts forming full buds (many hairs clustered together in bunches), then that means she's in the flowering stage. In that case, it's possible you have an autoflowering plant.
---
Jump to…
What's The Fastest Way To Grow Marijuana?
How Long Does It Take to Grow Weed?
Questions about buying cannabis seeds?