We're lucky enough to have a community that loves to show off what they can do. Between our "Trophy Pics" page, our forum and Instagram, we've been given a ton of great pictures of our readers' handiwork. We've picked out just a small sample of the awesome pictures you've sent to us this month for our annual 'Readers Pics' Showcase. These pictures are pretty, but they also usually have a little "story" of sorts about the plants. Enjoy!
---
"Jack Herer. Scrog. Accidental stem split"
Calyx R.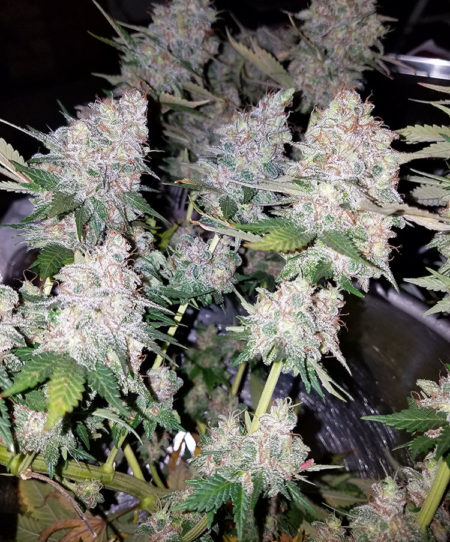 I'm not even sure how the plant survived that split without help, but Bravo!
-Sirius
Original Image without recolor
---
"Just wanted to say thanks to all involved with growweedeasy! You have given a new grower all I could need to succeed. My first attempt was miserable at best. Now 9 months later I am preparing for my third successful harvest. Here's a few pics of my Cheese, Mama Mia (seedsman) and my Glueberry OG (Dutch Passion). I'm so excited and only have about 2 weeks left. Thank you again for this wealth of knowledge and grow on all."
Widespreadkev
---
"Thanks for looking at my plants! The tall skinny ones are Peruvian!"
Mr. Ed
This next submission was almost like a weed version of "Where's Waldo?" The next picture has a weed plant in it…where is it? (This took me longer than I'd like to admit)
Bonus: Find the lizard in the next pic!
(Click to zoom in. This one is tough!)
Answers:
(Weed in the first picture) – (Lizard in the second picture)
---
"Hey everyone!! First off I want to thank everyone at growweedeasy I have been growing for a couple years now, I started with very little knowledge but with your help I have been able to grow some top-notch medicine. This strain is called humble pie, 😁 it has a nice sweet almost fruity taste at first then is kind of woody or earthy on the exhale. Nice tight nuggets all over, yielded 15oz off 1 plant!😎kind of a tough grow wouldn't suggest to a beginner. Thank you Nebula and Sirus for everything!"
Mike
You'll want to click on this next one and really see it big and up-close!
---
"Indoor New Mexico medical grow..a Christmas harvest!"
HMR
---
"Hi guys, I just wanted to share with you some up close resin gland porn from this years crop."
David J.
This close-up is mindblowing! Whatever technique this grower used for this picture is incredible. I need to learn how this is done!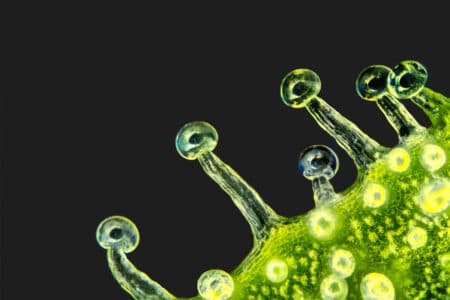 ---
This grower sent in some great colorful pics with the most concise breakdown of a grow ever.
"First Grow in 20 Years | 3 plants, this is Space Queen | Germinated Bag Seed June 19 | Low-Stress Training & Lollipopping | 250w MH 18/6
Flower: August 12 | 250w HPS 12/12 | Temp Day 80-90f | Temp Night 68-75f | Humidity: 50-70% | Harvest: October 7
Fertilizer: Master A & B | Liquid Gold Bat Guano | TNB Naturals The Enhancer CO2 Dispersal Cannister | The Green Pad CO2 Generator
Added during flowering: Aurora Soul Peak, Liquid Koolbloom
Yield: 60g | Super dense buds with so many trichomes. Wonderful energetic high."
BrokenBrains
---
"Still getting the hang of growing with LEDs, and I think I had them a little too close. Got some early yellowing, but buds are frosty and huge. Week 6 of 12/12. Organic soil mix in smart pots. Strains are Industrial Plant, and Blue Cheese. Mainlined for 8 tops, and lollipopped. Lights are Sanlight S4W. 140w per light- 840w total. Very happy with my results and expecting over 1g/w.
Thanks for a great site. Has helped me tremendously over the last few years learning to grow."
Budwizer
---
This next set of pictures was reposted to the GrowWeedEasy.com Instagram account, but the pics are by @shwale.
"Sunset Fuel bract looking extra proper. I like the second image that has a bunch of glands grouped up, and the third has a couple "stringers". (Broken glands stretching across bracts) Tried to grab a closer shot of it since this is only a 2:1 macro, 140 image stack. Hopefully, the other one comes together as nicely. The terps on this cultivar of ours ranges from burnt rubber to rotten fruit."
@shwale
FYI: A "bract" is a horticultural term for a female flower that may actually be more accurate than the term "calyx". But as far as how the terms are used by cannabis growers, the terms "bract" and "calyx" are used interchangeably. ~Nebula Haze