by Nebula Haze
How Can I Tell If My Marijuana Is Rootbound?
It can be hard to know exactly when to transplant your cannabis plants into a new container because it is rootbound. This rootbound cannabis guide and tutorial will share some pictures and scenarios where you might consider transplanting your plants:
Soil is drying out too quickly – When your container is drying out only a day or two after each watering it means your plant is drinking fast and may need more water than your current container can hold

Plant is getting root or nutrient problems – A cannabis plant can start showing rootor nutrient problems when it's kept in a too-small container or if it's become root-bound. These root problems can cause the plant to become droopy, or show unexpected leaf symptoms or deficiencies (such as spots or yellowing leaves). Whenever literally everything else is right but you're still experiencing these problems, it may be a sign you need to transplant.

Plant has grown a lot or been in the same container for months. If you're keeping a mother plant for months, or if a plant has doubled in size in the same container, those are signs you may need to transplant to prevent your plant from getting rootbound.

Plant is tipping over from its own weight. When your cannabis plant is much wider and taller than its container, it's easy to tip over and therefore should be transplanted to a bigger pot that can hold it steady.

Plant is just plain too big for container (pics below) – There are some pictures below to give you an idea of what a plant looks like that needs to be transplanted. Some plants are just plain too big for the containers they are in.
Now let me give you a few real-life examples you can use to refer to. The following transplanting pictures should help give you an idea of exactly when to transplant your cannabis plants!
These marijuana plants are ready to be transplanted
This cannabis seedling is ready to transplant – you can transplant a cannabis plant from a solo cup once its leaves reach the edges. Don't wait much longer than this for a seedling in a solo cup!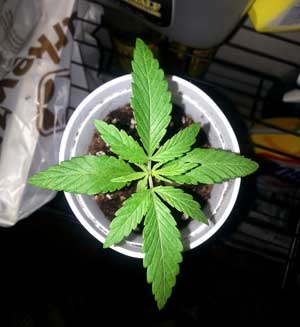 This next cannabis seedling is huge for a solo cup – it should have been transplanted weeks ago! The strange curling symptoms are a sign that the roots aren't happy. Once this plant was transplanted it started growing perfectly again.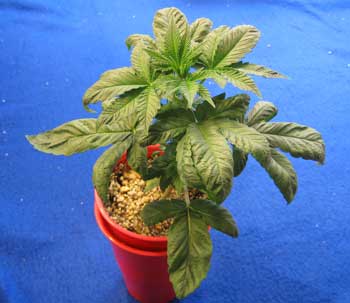 Sometimes a rootbound cannabis plant shows strange symptoms that almost look like nutrient deficiencies and/or overwatering, when the real problem is it just needs a bigger container!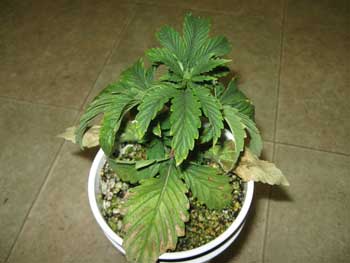 This next marijuana plant is also way too big for its solo cup. Although it still looks relatively healthy, notice the yellowing bottom leaves with spots and bluish color. If this plant isn't transplanted to a bigger container, those leaf symptoms will continue moving up the plant and start causing problems. Additionally, most likely this plant would already be much bigger if its roots weren't being constrained by the solo cup.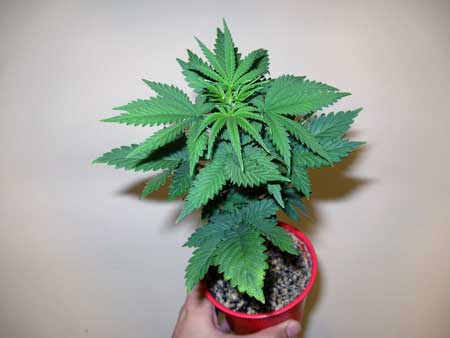 These marijuana plants aren't showing symptoms yet, but they're getting too big for their pots and should be transplanted soon, especially before they start flowering!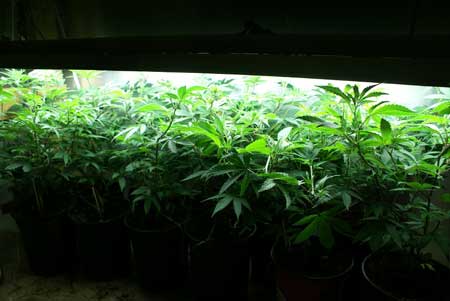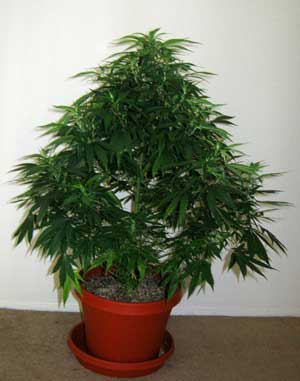 These cannabis plants are way too big for their containers and they're starting to show strange leaf symptoms, drooping and curling because roots aren't getting what they need
When a cannabis plant is much wider than its pot, it should be moved to a bigger container even if it's not showing signs of being root-bound. Not only will the plant roots love the extra space, your plant won't be so easy to tip over!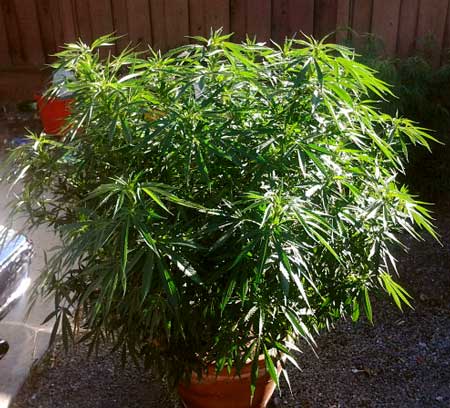 This cannabis plant was not transplanted before it started flowering. Although it was healthy its whole life, in the middle of the flowering stage it started drooping and showing these symptoms, because the plant was rootbound. Although it's generally not recommended to transplant a marijuana plant in the flowering stage, that's what was needed to fix up this plant and get to harvest!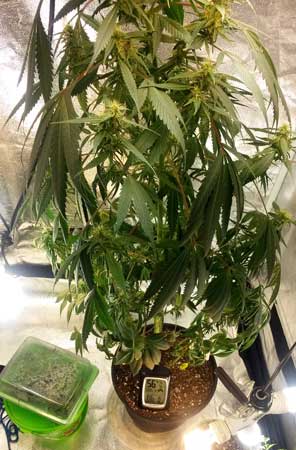 How to Transplant Cannabis
Water your cannabis plants 1-2 days before transplanting. This will help the growing medium stay together (since it's moist), but still slide out easily (since it's not soaking wet).

Before you get started, fill your new pot with potting mix. Don't fill the pot to the top, instead leave about 2 extra inches (5 cm). That way you can easily water the plant without all the water running off the sides.

Water this new container of potting mix before you begin the transplant so it's nice and moist. If you don't water the new soil first, it can have a hard time absorbing water after the transplant, and your roots won't like that!

Since you will soon be adding a new plant, you want to dig out a hole in the middle that's about the size of your old container.

Take your plant, and carefully slide a butter knife inside the container all around the edges to help separate the rootball from the sides of the pot. Avoid grabbing the plant directly by the stem. Try to grab the whole top with a flat hand, and turn the container upside down so you can gently pat the rootball out and catch it with your flat hand. You may have to gently pull the plant out of the container, but go slowly and be gentle!

Plant the rootball directly into the new container, placing it in the hole you dug out earlier. You may need to add some extra soil to ensure a nice flat topsoil.

Gently pat down around the roots, to help press everything together slightly, then water your plant immediately. If you do it right, it won't stress your plants at all! Read a few more tips here.
Read the complete transplanting guide!
---
More on Cannabis Life Stages…
Problems & Symptoms
---