All 5 of These Cannabis Legalization Measures Passed!
I've heard some cannabis growers comment that these laws aren't perfect. I agree. And even if they were perfect, the fight isn't over until the United States government legalizes weed on a federal level. However, this is time for celebration because as these measures pass, fewer people go to jail for a plant that humans have used for thousands of years. We must continue the fight to create better laws, but also celebrate victories where justice is being restored.
~Nebula Haze
P.S. Click here to learn about cannabis cultivation laws in your state.
---
Looking for more information on cannabis legalization initiatives up for vote in the upcoming November 2020 US Election? This cheat sheet will break down all the different United States initiatives with information on how to help expand cannabis cultivation access. I'll also include a quick roundup of the legalization status of other countries that commonly visit GrowWeedEasy.com.
Arizona
Vote YES on Prop 207 so adults 21+ can possess up to 1 ounce of cannabis and cultivate up to six plants. Learn more
Mississippi
There are two competing options for medical marijuana legalization. Learn more
VOTE FOR APPROVAL OF EITHER on Measure 65 or 65A
Vote FOR Initiative 65 to establish state-licensed dispensaries for qualifying patients. Vote AGAINST Alternative 65A because it is more restrictive and would prohibit patients from smoking marijuana.
Here's a picture of the ballot so you know what to expect.
Montana
Vote YES on I-190 to allow adults (21+) to possess up to one ounce of marijuana and to cultivate up to four mature plants for personal use.
Vote YES on CI-118 to allow adults (21+) to legally possess, grow, or purchase cannabis.
New Jersey
Vote YES on Public Question 1 to legalize the possession and use of marijuana for adults (21+) and legalize cultivation, processing, and sale of adult-use marijuana. Learn more
South Dakota
You're voting on both medical and recreational marijuana!
Vote YES on Constitutional Amendment A to allow adults (21+) to purchase and possess up to one ounce of marijuana and grow up to three plants for personal use.
Vote YES on Measure 26 to establish a medical marijuana program for patients diagnosed with serious health conditions.
Please vote and do your part to help legalize weed for everyone!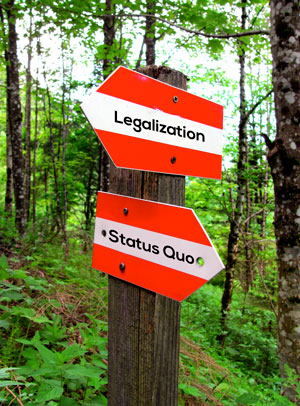 Get current marijuana home grow laws for…
Legalization in Other Countries that Visit GrowWeedEasy.com