by Nebula Haze
---
Table of Contents
Introduction: What Is "1 Gram/Watt" and Why Do Indoor Growers Want It?
3 Important Factors to Keep in Mind
Step-by-Step: How to Achieve the Elusive 1+ Grams/Watt
---
What Is "1 Gram Per Watt" and Why Do Indoor Growers Want It?
As a cannabis grower, you may have come across this term: "1 Gram/Watt"
What does it mean?
It's an unofficial measurement for indoor growers that refers to the yield you get from a certain wattage of light. For example if you're using a 600W grow light, yielding 1 gram/watt would mean you harvested 600 grams of bud. If you only harvested 300 grams, it means you got 0.5 grams/watt (300 grams divided by 600 watts).
Just to put things into perspective, even 0.5 gram/watt is considered a good yield, so going for twice that is pretty crazy!
A yield of one gram per watt is considered the "upper limit" of what's possible with indoor grow lights (though it can be beaten)! An average-to-good grow yields about 0.5 grams/watt.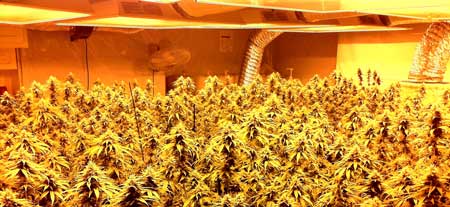 One gram per watt is meant to be a sort of "upper limit" of what to expect from indoor grow lights as far as yields. Although it's possible to get even better yields (certain LED grow lights combined with the right skills can produce 2 grams/watt and beyond), even getting close requires preparation and a good setup. Most people are not going to put in the time, effort, or money for this and that's okay.
In fact, many hobbyist growers aren't as concerned with yields as much as making sure they're getting the effects they want from their buds… and in my opinion, that's the right frame of mind. But even if you don't care that much about yields, it can still be fun to try to beat your own record.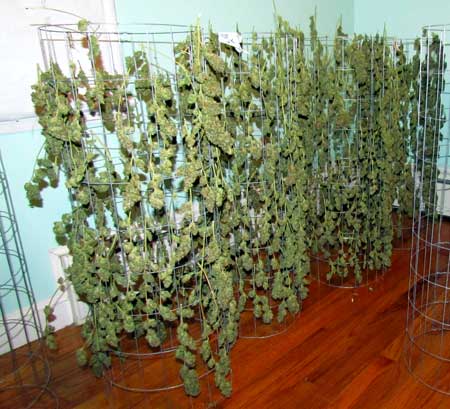 This tutorial explains how to use the concept of yields for electricity to your advantage, and then I'll teach you how to consistently produce 1 gram per watt yourself!
3 Important Factors to Getting 1 Yield per Watt
If you're going to try for 1 gram/watt, keep the following things in mind…
1.) It's Hard to Get 1 Gram/Watt
Grower Skill & Experience
The skills and experience of the grower make an enormous difference to yields. The first time you're in charge of growing your own plants, everything you thought you knew about growing will change, trust me.
Even if you start with the best growing setup in the world and have researched growing cannabis for years, it's still going to take at least a few grows to start getting close to your full potential. Even highly experienced growers need a grow or two to adjust to a new environment or new grow light before they achieve their best yields.
If you've never grown before, don't beat yourself up about yields because you not only have to learn how to grow, but how to optimize your particular grow space.
If you start growing in a new space, it almost always takes a few grows to "get the hang of it" and produce the best yields, even for growers with tons of experience. Each grow has the potential to be better than the last.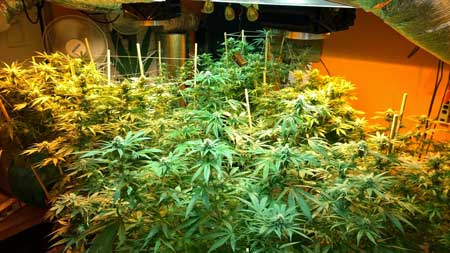 Strain Has a Huge Impact on Yields
The first time I grew a "high-yielding" and a "low-yielding" strain together at the same time, I was shocked. Although the plants themselves were about the same size and grew in the same environment, one plant yielded several ounces more than the other. Although they got the same conditions throughout their lives, one plant's buds grew fat and dense while the other plant's buds stayed smaller and more airy.
These plants are both 8 weeks old from 12/12 and have been grown in the same setup their entire lives. You can see the plants were the same size so you might think the yields were similar between the plants. Looks can be deceiving, because the strain has a huge impact on your yields after harvest.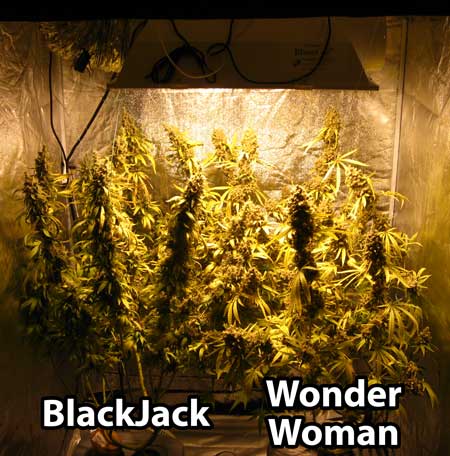 The plant on the right (Wonder Woman) grew much chunkier buds and yielded almost 50% more than the plant on the left (Blackjack). These differences in yield were based completely on strain, not environment or skill. There's literally nothing a grower can do to make Blackjack yield like Wonder Woman when everything else is equal.
The resulting buds from both strains were great, and I was happy with the yields regardless because even the Blackjack had good yields too! But it really showed me how much of a difference genes make when it comes to yields! You can only get your plant to yield as much as its genes allow, and if the genes aren't there the yields will be absent, too.
When you're very concerned about yields, make sure to look only at high-yielding strains when searching for seeds.
Here are some recommended high-yielding strains
My Critical Purple Kush yields and bud quality have been excellent. Here are two Critical Purple Kush plants grown in different tents. No matter how big the plant, the strain fills the branches with buds. (though just as a warning my buds didn't turn purple, though they usually do especially if they get cold nights near harvest)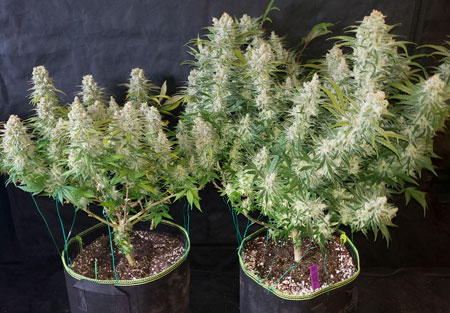 You May Need a Better Setup
Adding equipment to control the temperature and humidity (like fans, ducting, an AC, a humidifier, dehumidifier, etc) gives growers an edge, but they may also increase your setup and electricity costs.
If you have a subpar setup for growing cannabis, you're not going to get the best results even if you have amazing skills and the best grow light in the world!
There's nothing you can do to make a plant grow well if it's freezing or sweltering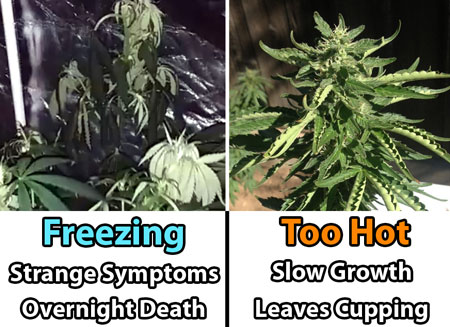 Learn how to make a perfect growing environment (as a general rule, if it's comfortable for you, it's probably comfortable for your plants!)
Consider Supplementing With CO2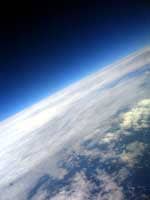 CO2 or Carbon Dioxide is a gas in the air that plants use to "breathe" when they're making energy from light via photosynthesis. If you're providing a whole lot of light, it might be more than your plant can handle, and too high levels of light will give plants light burn even if it's cool.
Light burn happens partly because there is not enough CO2 in the air to support that level of photosynthesis. As a result, leaves die early from being "overworked". You want to get as much light to your plant as possible for the best growth, but if top leaves become dead and yellow from light burn, your buds will stop fattening up!
By increasing the levels of CO2 in the air, you can increase the amount of light your plant can actually use. This allows you to increase the energy produced by the plant beyond what's naturally possible with your grow light, without light burn. That extra energy results in faster growth!
Did you know? Billions of years ago the atmosphere contained very high levels of CO2, and plants evolved to be able to take advantage of it. Although our air contains much less CO2 now, plants have inherited this ability, and you can use that to your advantage in the cannabis grow room!
There are many ways to increase CO2 levels, including Generators and Compressed CO2 tanks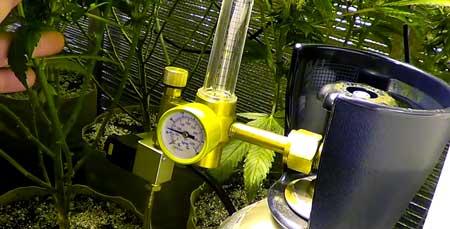 CO2 might be something to consider if…
You have mastered the basics and already take advantage of free ways to increase yields indoors
You already have very bright grow lights (like an HPS) – if your lights aren't bright enough to tax the plant, you're not going to get any results from CO2
You can afford to supplement with extra CO2 (it can get expensive)
You must be able to seal the grow space to maintain CO2 levels in the air. You cannot dramatically raise CO2 levels if the grow space isn't sealed from outside air.
You may need to get an AC and a dehumidifier to keep the environment right, since temperature and humidity rises when plants are being grown in a sealed environment.
However, if you've dialed everything else in, CO2 can be used to increase your plant's growth rate which can help increase yields in a limited space.
Learn how to increase growth and yields with CO2
2.) Many Growers Don't Measure Weight Accurately
It can be surprisingly hard to accurately measure bud weight! When your buds are on your plant, they are made up of 75-85% water. After being dried, they will only weigh 15-25% of their original weight.
But what if a grower dries their buds more than someone else? The more you dry your buds the lower the overall weight is going to be, even though your actual 'yield' is the same. On the flip side, if you don't dry your plants fully, your yield weight is going to be artificially inflated.
Growers often measure yields differently from each other. This can make comparing yields kind of like comparing apples to oranges.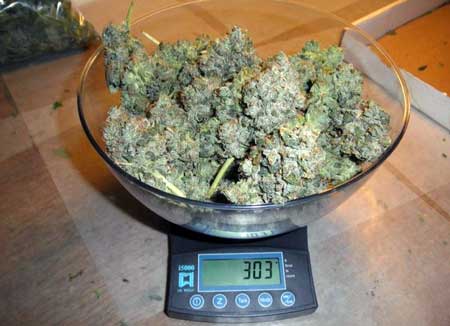 Tips for the Most Accurate Comparison of Weights
Buds pop off the stem when they're dry – You're not done drying your newly harvested buds until the buds "pop off" the stem on their own if you apply pressure. If the smallest stems bend instead of snap, or pulling off buds is leaving strings behind, it means the buds need to dry more and still have water weight.
Buds should never feel wet or moist from sitting in jars during the curing process. If that happens it means the buds still need to dry out more. If you invest in a hygrometer you can use it to exactly measure the humidity in each jar to make sure it's perfect. In an ideal world, the air in the jar should level off at around 62% RH when your jars are closed. That's the best time to weigh your buds. If your humidity levels in your jar are higher than 65%, it means you still have significant water weight left and your bud weight is going to be inflated if you measure it.
A Quart-Sized Jar Holds 0.75-1 Ounce of Dried Buds – A quart-sized mason jar (most common way to store buds) can usually only hold up to 1 ounce of buds unless the bud has extra water weight. This is just a very loose general rule (and can be beaten with very dense buds), but it can help you more accurately assess other people's harvest weights as well as your own. If you are able to fit more than an ounce of buds in a quart-sized jar, chances are it still has some water weight.
In the following picture, there are 6 jars in total (filled up almost to the top). Just by looking at this picture, you can estimate this grower harvested about 6 ounces of bud.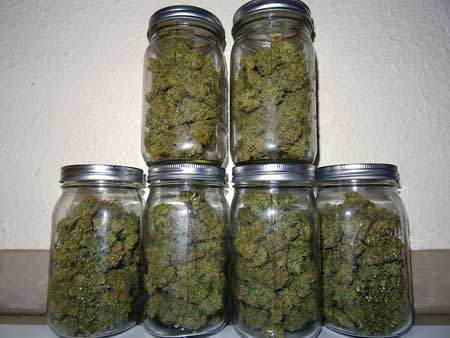 3.) 1g/W Doesn't Take "Light Hours" Into Account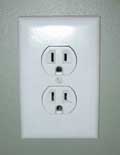 People use the Gram/Watt measurement partially to decide who is getting the best yields for the amount of electricity used. People most frequently use it to compare the efficacy of different types of grow light. However, this idea is missing a key point.
If you take into account the total amount of time your grow lights are on, it can make a huge difference in the total electricity. The number of hours your light stays on is as important as the wattage of your light.
Example of Light Hours
1,548 Light Hours – An auto-flowering grow where lights are on for 86 days on an 18/6 light schedule
1,800 Light Hours – A photoperiod/regular grow where lights are on for 50 days on an 18/6 light schedule for the vegetative stage, and 75 days on 12/12 light schedule for the flowering stage.
Let's say both these grows yielded exactly 1 gram/watt. Although that number is the same, the second grow used 252 more light hours in total, or 16% more electricity to power the lights over the course of the grow.
Even though the gram/watt is exactly the same, the second grow used 16% more electricity (light hours) than the first
You don't need to get lost in the details here, but this is just something to be aware of. When it comes to figuring out what's the most electrically efficient as far as yields, pay attention to how long the grow takes and how many hours/day the lights were on, not just the wattage of the light.
If you start paying attention to this when looking at grow journals, you'll notice that in general, more light hours overall tends to be associated with higher grams/watt (more light to the plant = more growth on average). When grows are shorter with fewer light hours, the grams/watt tends to be lower.
Learn more about electricity cost for different setups
How to Actually Achieve the Elusive 1+ Grams/Watt
At this point you've learned that 1 gram/watt is more of a general idea or goal than a concrete measurement of anything, but why not achieve it in your own garden?
If you want to be able to impress your friends and fellow growers by hitting 1 gram/watt, I'll teach you how.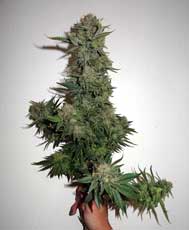 These tips may seem simple, but if you follow them all they will make a huge difference.
1.) Control the Growing Environment
Keep temperature between 65-85°F (18-30°C) during the whole grow. If you want to get even more specific, try to stay around 75-80°F (24-26°C) during the day, and a few degrees cooler at night. Extreme temperatures will slow cannabis growth and can cause unexpected plant problems like deficiencies and leaf damage, even if you're doing everything else right.
Keep humidity around 50% RH throughout the grow (though young seedlings and clones like it a little higher they can also thrive at 50%)
Make sure you've taken care of air circulation in the grow space and are exhausting hot air. Marijuana plants need a breezy environment with lots of fresh air to grow as fast as possible.
Put the effort into making a great growing environment. This causes plants grow much faster and healthier than in sub-optimal conditions.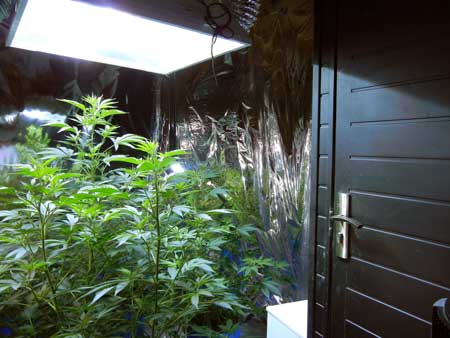 2.) Get an HPS, LED, or LEC Grow Light
The highest-yielding types of grow lights are HPS, LEDs, and LECs. HPS consistently gets incredible yields, especially in the 600W size which is the most efficient. LEDs give you a much bigger range of results. The worst LEDs get only a fraction of the yields you'd get with an equivalent wattage HPS. But some LEDs like the Electric Sky 300 seem to consistently beat HPS when it comes to yields per watt. LEC grow lights tend to get similar yields as HPS or a little more.
Want to guarantee huge yields with a cheap light? Use a 600W MH/HPS grow light ($165) and keep it about 16″ away from the tops of your plants in a 4'x4′ space and easily get over 22 oz (over 1 gram/watt) as long as you fill the space under the light. Use the metal halide bulb in the vegetative stage, wait until plants are about 12-18″ tall, then initiate a 12/12 light schedule and switch to the HPS bulb when you see flowers forming. HPS lights get impressive grams/watt even in poor conditions and even with the absolute cheapest models. Just make sure to get a new HPS bulb every few grows and keep the grow room under 80°F during the flowering stage. Even a total beginner can get 1 g/watt on their first grow if you follow those principles.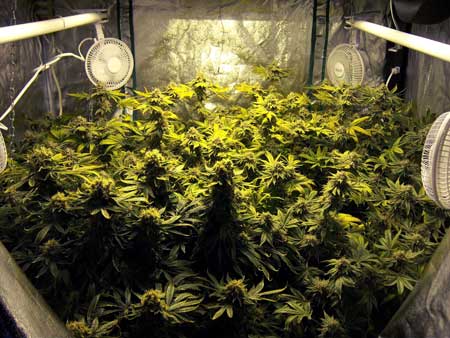 Want the best yield/watt and are willing to pay a bit more for LEDs? The Electric Sky 300 LED gets better yields per watt than HPS in our tests. You can use two ES300s in the same space as a 600W HPS, and although they use the same amount of electricity they run cooler and produce bigger yields. Unlike a lot of other LED models I've tried, plants under the ES300 are not finicky or sensitive in the vegetative stage. I have tested a lot of LED grow lights on cannabis plants over the years (so far none of the "blurple" ones seem able to consistently beat a 600W HPS), but the Electric Sky models are my absolute favorite. I've used their version 1, 2, and 3, and they just make fat, long buds that get so heavy the branches start falling over. I've also found the HLG 300 LEDs and Mars Hydro TSL 2000 produces incredible bud quality and great yields, maybe even better than HPS, but not quite as great yields as the ES300.
Here are two ES300s in action. These replaced a 600W HPS in this 4'x4′ tent and seem to produce better yields while using the same amount of electricity.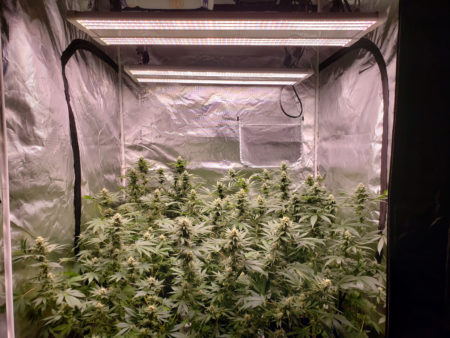 Want something different? Consider CMH/LEC grow lights! These grow lights are related to MH and HPS grow lights (the technology is kind of like a mix between the two) and get great results from seed to harvest. Learn more about growing weed with LECs.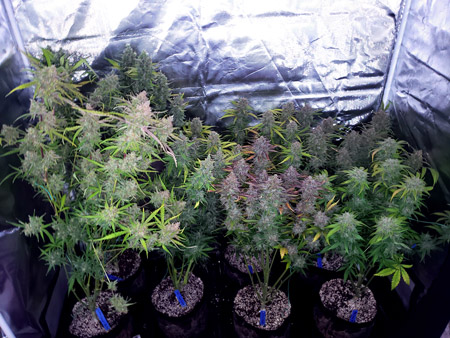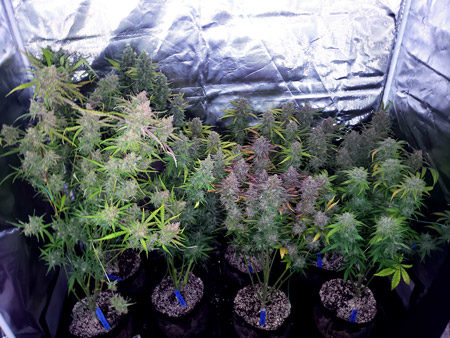 3.) Choose a High-Yielding Strain
Choose a large, high-yielding, long-flowering strain. There are lots of amazing high-yielding strains to choose from if you know where to look
To get the best grams/watt, you want a strain that will actually fill in and thicken up all the buds, like the colas from this Malawi Gold (sometimes called "Chamba") plant. This strain is legendary for its yields, but most strains will never grow buds like this no matter what you do!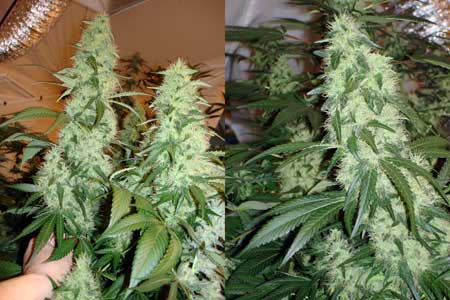 Here are some recommended high-yielding strains
The Critical Purple Kush (right plant) under an Electric Sky 300 produced enormous dense potent buds. Overall it yielded almost twice as much as either of the other two plants. Strain makes a difference!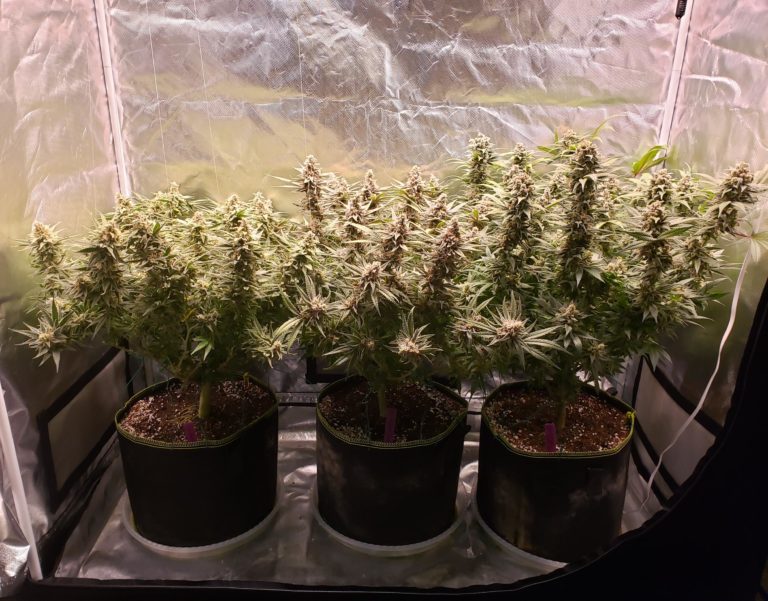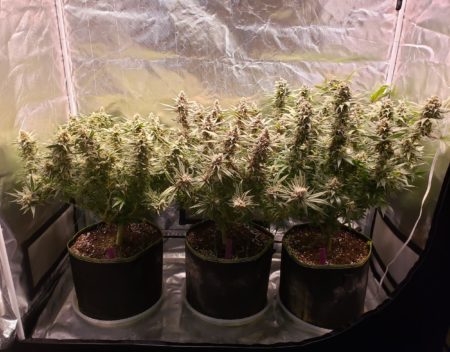 4.) Grow Style
Keep plants healthy and growing fast!
5.) Train Your Plants to Grow the Right Way
Grow bigger plants – let plants get relatively big in the vegetative stage before the change to 12/12. Bigger plants can support bigger buds! Wait until your plant is half the final desired height before making the flip to the flowering stage!
Familiarize yourself with plant training. You need a wide enough plant canopy to completely fill the entire footprint under your grow light before you start flowering or you'll be wasting light. A 600W HPS can cover a 4'x4′ grow space, so in that case you'd want to make sure every inch of that 4'x4′ space is covered in plants. This can be achieved either by growing multiple plants naturally, or growing a couple of plants that have been trained to grow flat and wide. You can fill your space faster with more plants, but it's more work. If you grow just a couple of plants it's easier overall but the grow takes a bit longer in the vegetative stage. Learn more about the differences between different types of plant training!
Training plants to grow wide and flat is a free way to get better yields from your grow lights. Once the plants start flowering, a flat canopy creates a "sea" of bud sites like this.
​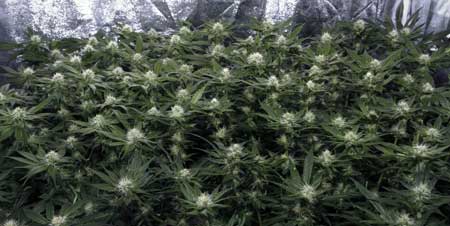 6.) Do These Things Before Switching to the Flowering Stage
Make sure your canopy is flat like a table before you switch to the flowering stage. Learn how.
Make sure each cola has at least an inch or two of air space to itself, but there are also no "holes" in the canopy without a cola.
Clear the bottom 10-20% of your cannabis plant right before the switch to the flowering stage ("lollipop" your plant) since buds at the bottom of the plant are in shadow and will just take away energy from the top buds directly under the light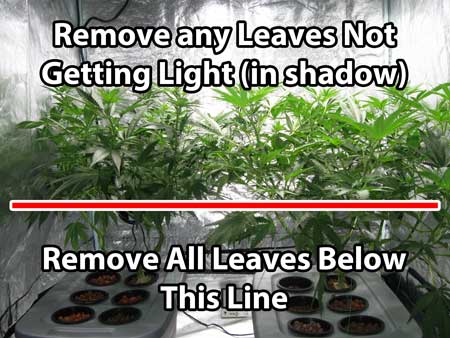 Before – Notice how leafy these plants are; no light can get down past the top canopy and the floor is in shadow. Way-too-bushy plants like this are prime candidates for defoliation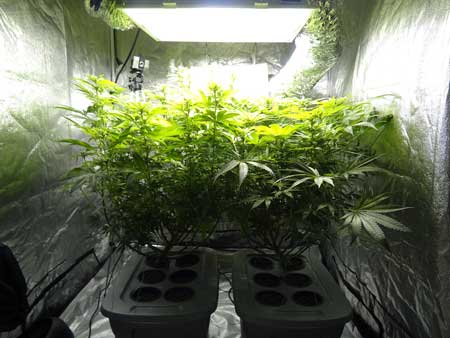 After – Notice how all the bud sites are now exposed, and the light can get to bud sites deeper down into the plant.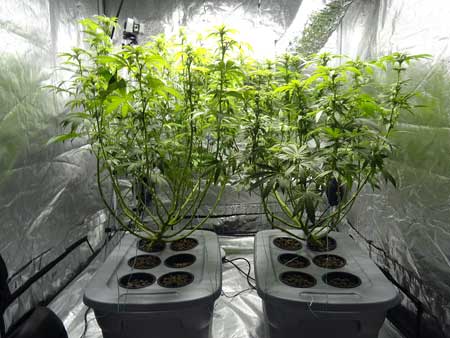 7.) Flowering Stage – After the switch to 12/12
Keep lights as close as possible without light-burning your plants! Try to regularly check the true color of your leaves in natural light. Sometimes yellowing in the top canopy can creep up on you slowly over a couple of days or weeks if your lights are right on the edge of being too close. It's important to keep leaves green until you're approaching harvest because if all your leaves turn yellow your buds stop fattening.
If grow lights are kept too close to plants, the top leaves will turn yellow even if the grow space is not hot. Make sure to keep grow lights the right distance away!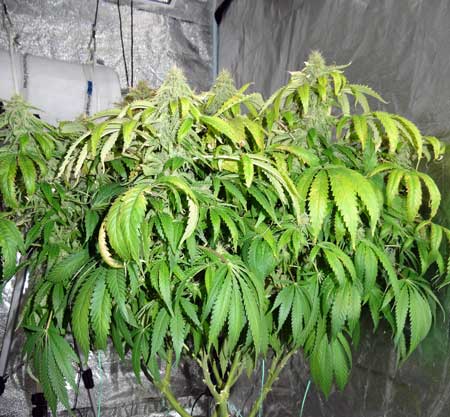 Defoliate the biggest fan leaves on the plant one last time around Week 3-4 after the switch to 12/12. This exposure to light will help buds fatten up if you remove the largest leaves that are hiding bud sites from the light. Be careful not to go overboard or you'll do more harm than good! After this step at Week 3-4, avoid defoliating for the rest of the grow unless it's necessary, as your plant will soon stop making leaves altogether. This is another advanced technique you shouldn't try on your first grow, if you take too many leaves it will stunt your plant and actually hurt your yields!
Take all the biggest fan leaves around 3-4 weeks into the flowering stage. Example: the left plant needs defoliation while the right plant was just defoliated. Learn more about why around Week 3.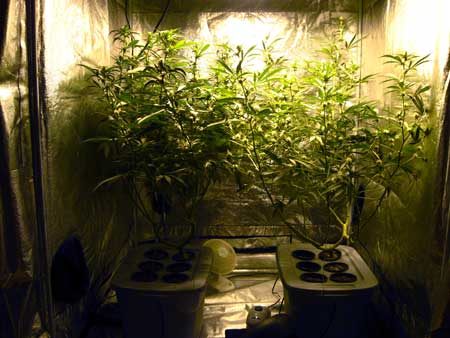 It may seem weird that strategically removing leaves could actually increase your yields, but doing it right will make it a lot easier to achieve 1 gram/watt! Learn more!
There you have it!
If you follow all these steps you can and will achieve 1 gram/watt! It may take a grow or two to get the hang of it in your grow space but it can be done with a little persistence just by following these instructions!
---
Jump to…
What's My Limiting Factor For Yields?
How to Increase Yields with Any Strain
How to Make Plants Grow Faster with CO2
How to Increase Potency When Growing Weed
---