by Nebula Haze
---
Table of Contents
Introduction: Most Common Plant Training Mistakes
---
Did you know that "training" your cannabis plants to grow many main bud sites (instead of just one) is a simple and free way to get bigger yields indoors? Plant training can increase indoor yields by 40% or more (compared to letting plants grow naturally) by forcing plants to grow bigger, denser buds, without as many smaller or airy ones.
In the vegetative stage, marijuana plants are trained to grow wide and flat, like a table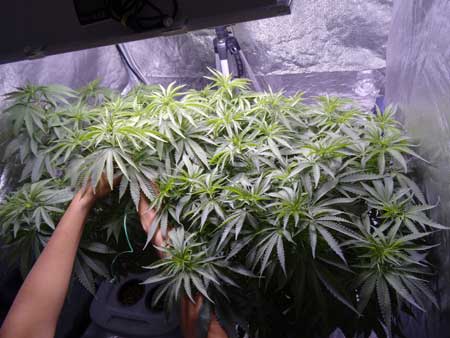 In the flowering stage, this shape ensures that many bud sites develop into long, thick colas by taking advantage of the fact that cannabis plants put the most energy into buds that are both at the top of the plant and close to the grow light.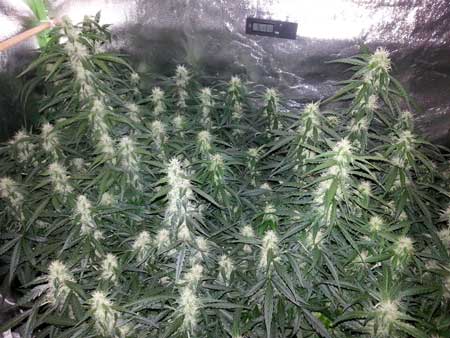 Although plant training can produce impressive results, sometimes marijuana growers aren't given the right information, which can cause unfortunate mistakes that hurt their yields!
With that in mind, I will cover the 7 most common marijuana plant training mistakes, so you get the yields results you want every time, even if it's your first time!
1.) Not Training at All
In our growing forum, when I asked what people's biggest mistakes were when it came to training their cannabis plants, the most common answer was actually growers regretted not training their plants at all!
It's true that you can get great results without any plant training, but training techniques can significantly improve your yields compared to letting the plant grow into its natural shape. Plant training can be as simple or as complex as you want it to be, but even a little bit of effort in your plant's early life can make a big difference to your final bud weight!
The trained plant on the right had many more main colas and produced far more bud than the untrained plant on the left, even though it took up less space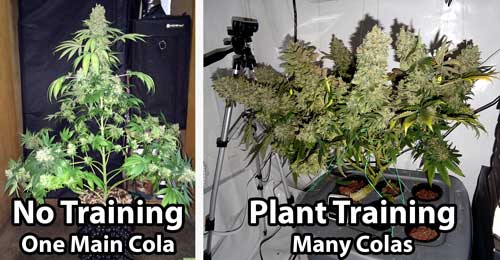 2.) Breaking a Main Stem by Accident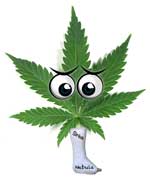 It's important to use bending techniques from the beginning of a plant's life because stems start getting stiff as they get older. Starting while the plant is still young makes the whole process go much more easily!
However, even if you're careful, it can be easy to snap a stem by accident. This most often happens when trying to forcefully bend an older stem that has become thick and unyielding.
Nothing is better than bending when stems are flexible to get your plants to grow exactly how you want, but there are a few techniques that can help you bend over stems after they've already hardened!
Prevent broken stems by bending at the newest growth if possible, where stems are more flexible.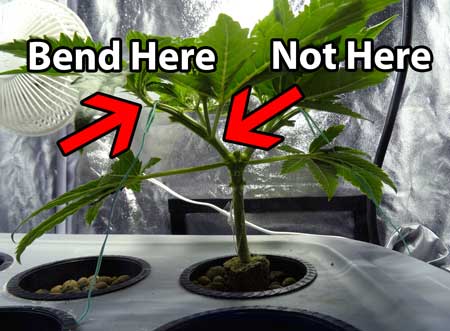 Supercropping (Advanced) – If a stem feels too stiff but it must be bent, don't force it! Use a technique called "supercropping" to soften up the inside first, so the skin doesn't break.
Pinch the stem tightly between your fingers at the place you want it to bend
Start gently wiggling the stem back and forth while also trying to crush the new joint in between your fingers.
Wiggle back and forth for 10+ seconds, or until the stem has greatly loosened up at the place you want to bend.
Once the stem feels loose and flexible at the joint, you're safe to bend it over and secure it in place. This can even work with thicker stems if you're patient enough to wiggle for a while!
Learn More About Supercropping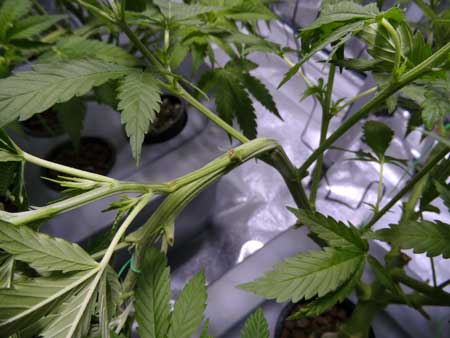 If you do end up breaking a main stem, you can often tape up the injury like a cast and the plant will heal itself over the next week or two.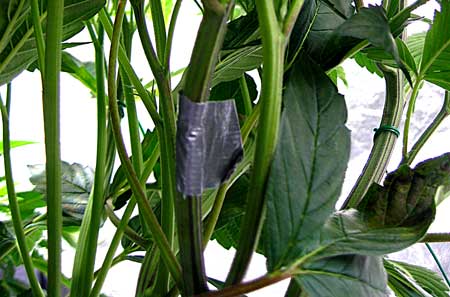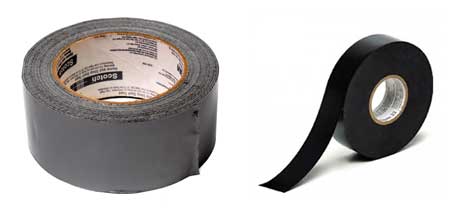 Remember: If you do break off a main stem early in a plant's life, it's no big deal because there are usually dozens more growth tips to take its place! And even if you break off a main stem/cola during the flowering stage and can't tape it up in time, it can help to remember that most growers lose a cola at some point!
3.) Mistakenly Keeping Plants Too Small
A very small plant just can't make as much bud as a bigger plant, so keeping plants smaller than needed can reduce your yields. You will get the best yields by growing your plants so that they fill up your grow space.
Since this plant was kept so small before it started flowering, it just doesn't have the size or infrastructure to support a lot of buds. There's nothing a grower can do at this point to get a plant like this to yield a lot of bud. It's important to avoid mistakenly keeping plants too small before they start making buds!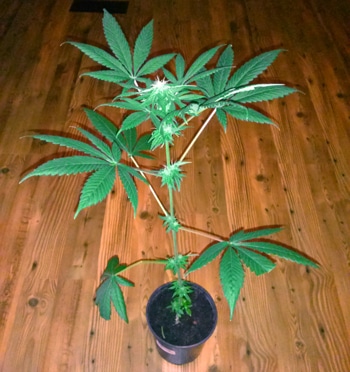 It's important to wait until a plant is at least 3-4 weeks old before initiating the flowering stage (putting cannabis plants on a 12/12 light schedule), even if you're trying to get to harvest as fast as possible.
This is because a plant won't start flowering before about week 3-4 anyway, so giving plants a 12/12 light schedule before that time just reduces the total amount of light they get each day, and they won't get as big as plants under 18/6 or a 24/0 schedule from seed.
3-4 Week Old Plant – Never switch to 12/12 earlier than this or plants will stay tiny, and waiting a few more weeks is probably better!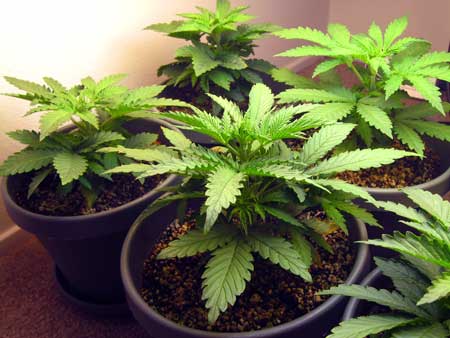 This plant was switched to flowering when it was 4 weeks old, and yielded about an ounce in one big cola.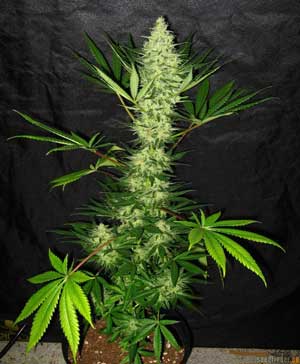 Some growers recommend you wait until 6 weeks to start flowering. One reason is that cannabis plants tend to mature the fastest if they have already started showing "pre-flowers" (tiny versions of adult flowers) before initiating the flowering stage.
But the main reason is that letting the plants go just a little bit longer – to about week 6 – will give you plants that are significantly bigger and which can support bigger buds.
6-Week Old Plant That's Been Trained to Grow Flat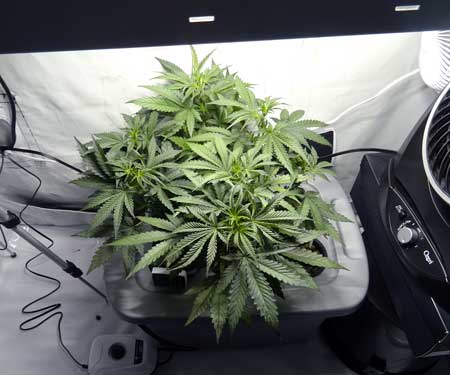 After being switched to 12/12 immediately after the above picture, the plant turned into this, yielding about 6 ounces on the single plant. Two extra weeks in the vegetative stage can make a huge difference in plant size!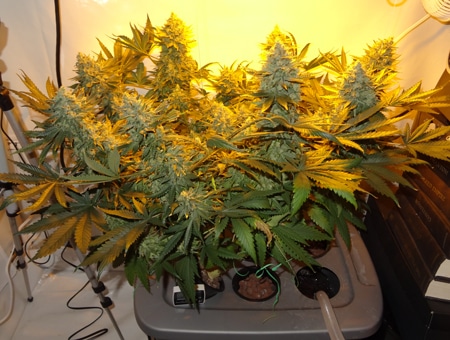 Note: These rules don't apply to auto-flowering plants, which will automatically start flowering on their own without any input from you. If you want a very small plant that yields a lot, consider auto-flowering strains: they're ready to harvest about 3 months from germination and stay small on their own! Overall, it's much better than doing 12/12 from seed.
4.) Letting Plants Get Too Big
As we just covered, if you have the space/height for it, you'll get better yields for your electricity by giving the plant time to get to a decent size before switching to the flowering stage.
However, if you let a plant get too big during the vegetative stage, it may completely overgrow your space!
Look at how this plant has already grown into the grow lights in the vegetative stage! This is a problem because the lights can't be lifted up any higher in this particular grow space, and the plant is going to double in height after the switch to 12/12! This kind of crazy overgrowth can happen before you know it if you have a fast-growing plant, so stay aware of how big your plant is getting!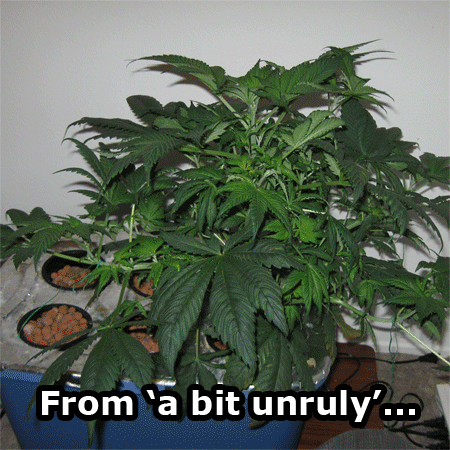 If plants are allowed to get too big during the vegetative stage, you'll not only end up wasting time and electricity, you'll also find yourself with an overcrowded grow space. Plants being too close to each other and the grow lights can cause light burn, white powdery mildew, bud rot, and other unwanted problems.
Flowering Stretch: It's important to remember that plants often double in height (known as the "flowering stretch") after the switch to the flowering stage, so it's important to change to 12/12 around the time the plants have reached half the final desired height.
Pre-Stretch – Right before the switch to 12/12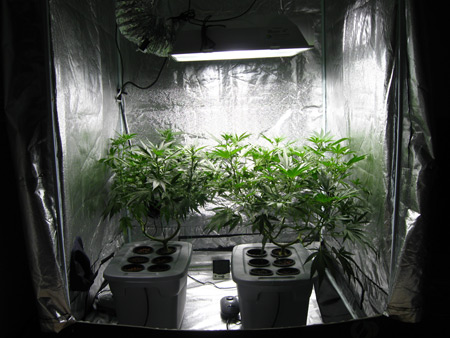 Post-Stretch – 4 weeks after the switch to 12/12. Notice how much taller they got!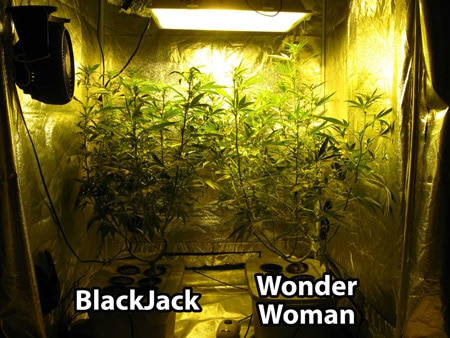 Learn more about the flowering stretch!
If you have a plant that's been growing incredibly tall and lanky, with a lot of upward growth without as much side branching, consider that a plant like that may stretch up to three times its height after the switch to 12/12. A plant that tends to grow short and bushy its whole life may not stretch much at all.
Different strains will stretch a different amount after the switch to 12/12. The main clue is what the breeder says about the strain, as well as how the plant tended to grow in the vegetative stage (lanky vegetative plants often become lanky adults).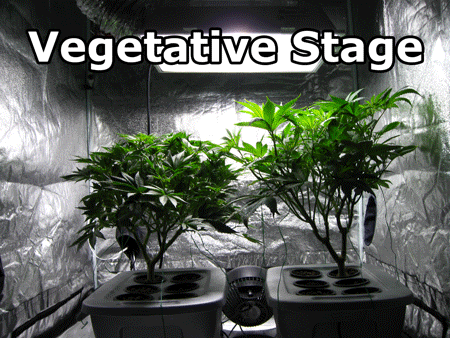 5.) Topping Plant Early or Incorrectly
Removing the top of the main stem ("topping" the plant) before it has grown at least 3-4 nodes often wastes more time than it saves.
In fact, removing any part of the plant when it's very young can stunt the plant, meaning it may grow slowly or stop growing altogether for days or even weeks.
However, if you wait until a plant is healthy and growing fast with a good root system, it won't even slow down after being topped! Waiting until the plant is the right size often improves your overall results from topping.
These young cannabis plants are ready to be topped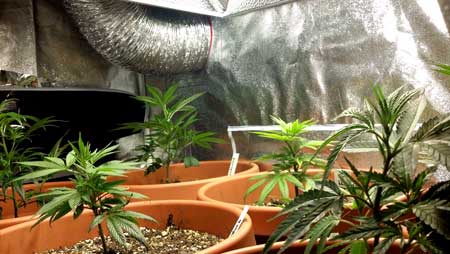 If you cut off just the very tip of your plant, there's very little chance of stunting, even if it only has 3 or 4 nodes in total.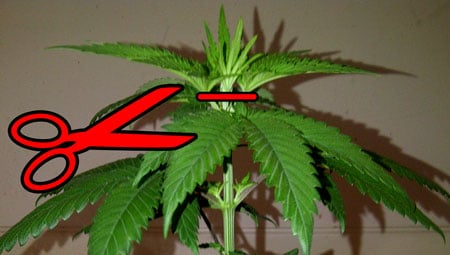 Many growers top down to the 3rd node/pair of leaves (like in the following picture) in order to form a short manifold. If you plan on any kind of extensive training like building a manifold, wait until the young plant has grown at least 6 nodes before starting; this ensures it has established a good root system. The more of the plant you remove at a time, the more it stresses the plant, so you want to make sure your plant is mature/strong enough to handle it!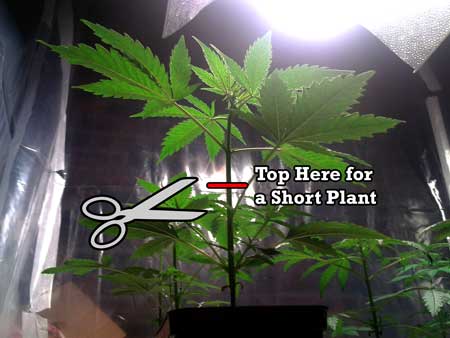 Be careful not to damage the growth tips during topping. These tiny stems will become your new main colas, and the base of every growth tip is where buds form.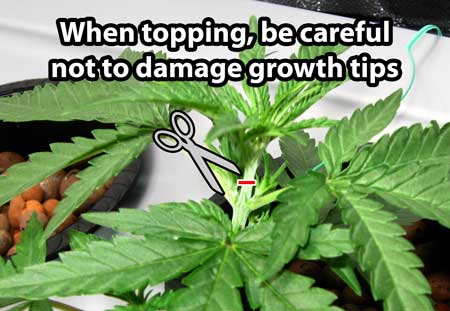 Always leave a little extra stem when topping a marijuana plant – this helps prevent the main stalk from splitting!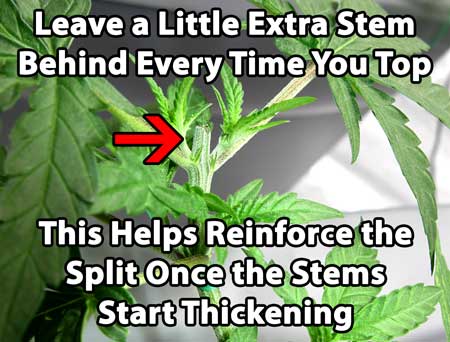 6.) Not Securing Your Plant Properly!
Don't use string or anything "sharp" to secure plants, as it can start cutting into their skin over time! Also, it's important to make sure that you can easily access all your plants after training.
Never use string to hold down your plants!
Notice how this plant can't be moved from its location because it's attached to a nearby wall? Don't do this! Always attach your plant directly to the pot so you can pick it up and move it. Also, avoid using something sharp like string or chicken wire to hold down the plants, because it will slowly cut into the plant's "skin" over time and cause damage.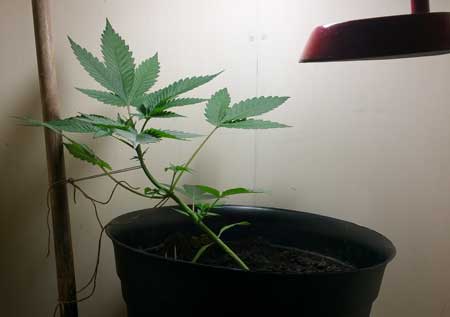 Plant twist ties are perfect for securing plants! They bend into the shape you want, and are soft enough they won't hurt plants.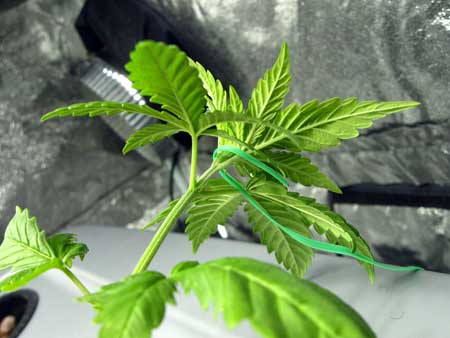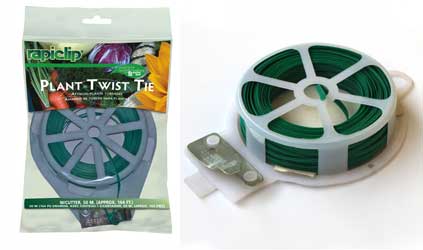 Or get creative! Any type of soft flexible wire works well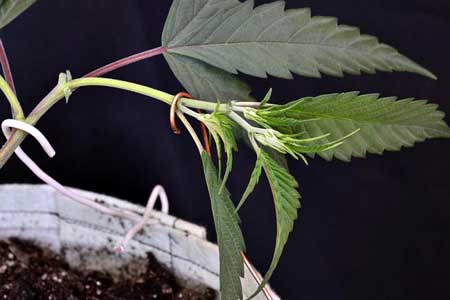 Make sure to attach any twisty ties directly to the plant container; this lets you pick up and move the plant freely!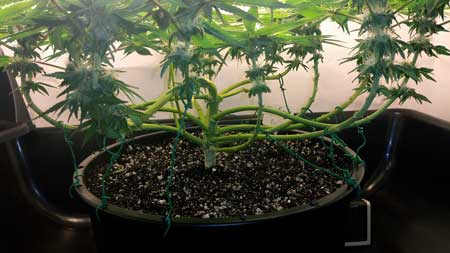 As the plant grows, whenever some of the colas are getting taller than the others…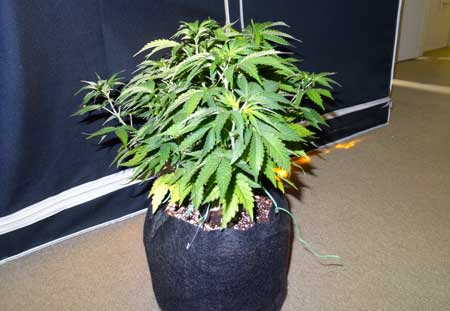 Bend the tallest ones over until they're all the same height as each other. Following just that one principle will produce the shape you're looking for!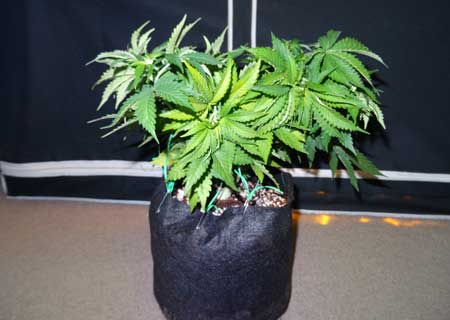 7.) Excessive Training on Sick or Slow-Growing Plants
When a cannabis plant is slow-growing or suffering from deficiencies, it is much more sensitive to stress from training. Things like topping, supercropping and extreme defoliation can all aggravate a sick plant and make it take longer to recover.
If you have a sick or slow-growing plant it's good to give them a few days of TLC before you commence training 🙂
Always let sick plants recover before extensive training. This plant suffered from a grower accidentally giving 3x the correct amount of nutrients. It's important to wait until it's healthy and growing new leaves every day before doing anything else to this poor plant!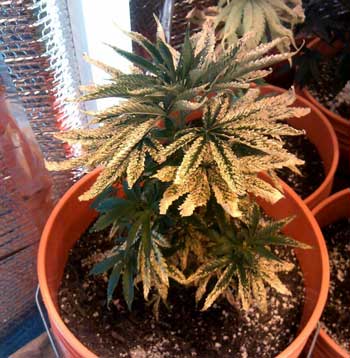 What can you do to help a cannabis plant relax for a few days?
Help plants recover quickly by moving the grow light a few inches away, and leaving the plant alone on an 18/6 light schedule (if it's in the vegetative stage, of course, if you have a plant on a 12/12 light schedule you don't want to change it!).
Providing relatively low levels of light in a comfortable, temperate environment without any disturbance can help a stressed plant regain its strength and start growing fast again in just a day or two. Once your plant is healthy and growing again, put the lights back on at full strength!
How far away should I keep my grow lights?
After extensive wilting from a heat spell, the grower of the plant below thought his baby was a goner. He tossed the dying plant in a bucket at the edge of his grow room, with the plan of throwing it in the garbage later that day. He somehow forgot, and a few days later he came back to find out that the comfortable temperature outside the grow tent and filtered light levels from a nearby window had been just the thing to bring the plant back to life! Even with just an inch of water at the bottom of the bucket, the plant was thriving!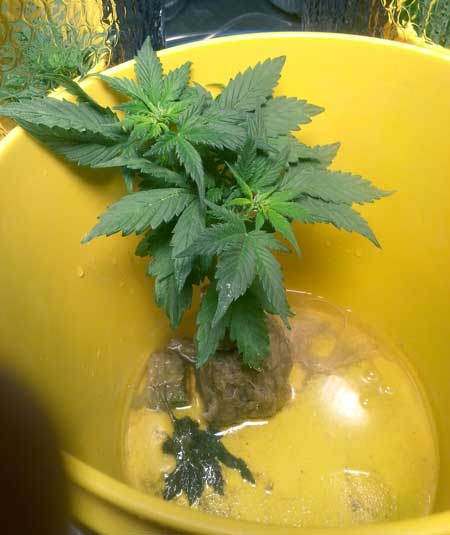 Check out that plant at harvest!
At a recent growing convention in San Diego I heard from another grower who'd noticed that lowering the light levels just a tiny bit can help a sick plant recover more quickly. The worst thing you can do for a sick plant is turn up the light, because it makes the plant work harder to keep up with all that photosynthesis!
I thought a cannabis plant could come back from anything?
When people say, "It grows like a weed" and explain how cannabis plants can recover from anything, they're talking about a healthy, fast-growing plant. You really can do almost anything to a vibrant cannabis plant in the vegetative stage and it'll bounce right back!
For growers who always have healthy plants, it can seem like plants simply can't get stunted. But if you take the same approach with a sick, sparse or slow-growing plant, it can dramatically slow down the plant's growth for days or even weeks in rare cases!
Now is not the time to train this plant (or try anything new really). Wait until it has recovered first, then start training!
Whenever you're thinking about training or removing parts of the plant, always consider the plant's overall health first. You'll know when you would be better served by waiting a few days to start training.
Now that you know how to prevent the 7 most common plant training problems that hurt yields…
Time to start training your plants!
---
Jump to….
How Many Plants Should I Grow?
7 Things I Wish Someone Had Told Me When I First Started Growing Weed
Why Are Cannabis Leaves Turning Yellow?
7 Tips to Improving Bud Quality
---