by Nebula Haze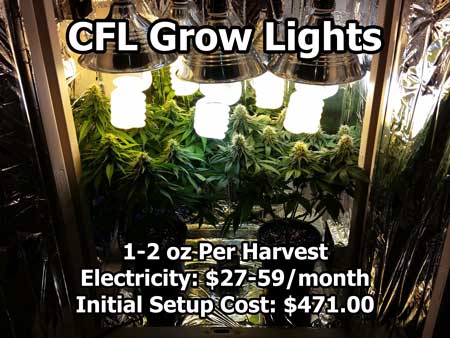 CFL Grow Setup (For Short Spaces)
Average Yields: 1-2 ounces
Recommended 1-2 plants
Grow space is 2'x2'x4' or larger
About This Setup
CFLs (Compact Fluorescent Lamps) are what most people used for standard household lighting up until a few years ago. Although they've mostly been replaced by the household LED (which can be adapted for the same purpose), they can still be used as a starting grow light for growers who are hesitant to buy a dedicated grow light. You can get these bulbs almost anywhere, and pretty much any of them will work or an entire grow in a pinch. Their wide availability is a huge part of their (former) popularity in the indoor growing world.
You probably won't need an exhaust fan for cooling in this setup, but if you don't have an exhaust fan you can't use a carbon filter, which means you won't have a great way to prevent smells from leaking outside your grow space.
Cost Estimates
Total Setup Cost: $471.00
Estimated Monthly Electricity Cost: $27-59/month (based on $0.12/kWH to $0.25/kWh – see breakdown)
Total Cost for Entire First 4-Month Grow (Setup + Electricity): $707 ($353-707/ounce)
Total Cost for Second Grow (Nutrients + Electricity): $266 ($133-266/ounce)
Summary of what you need for this CFL grow setup
CFL Grow Journal Examples
The following grow journals feature setups that are similar to this one (though some growers may use more or fewer CFLs) – see what to expect when growing cannabis with CFLs!
---
Complete Grow Supply List
This cannabis grow room setup list includes all the supplies you need to get to harvest.
Grow Light
CFL Grow Lights (at least 200W)

Start out in the vegetative stage with at least 160 actual (not equivalent) watts of daylight CFL bulbs.
In the flowering stage, you'll want to add a minimum of 80 watts of soft white CFL bulbs. If you want to add more bulbs, add them during flowering for the most value.
The light emitted by CFLs won't go far, so it's usually a good idea to have more of them and keep them all within 4-6 inches from your plants.
Cost: ~$77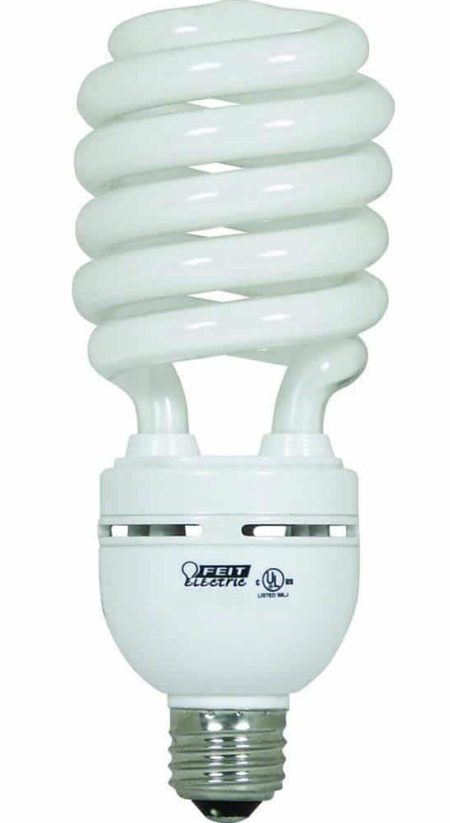 40 watt CFLs in daylight spectrum (left) for the vegetative stage and soft white spectrum (right) for flowering
Grow Space
Grow Tent Recommended Sizes
Exhaust Fan

Although an exhaust fan isn't absolutely necessary for this grow, it's great for expelling heat and makes it so you can use a carbon scrubber which is strongly recommended.
Recommended:  4″ AC Infinity CLOUDLINE series of inline exhaust fans. These run quiet and have the ability to turn the speed way down if necessary.
Budget choice: Vivosun 4″ Fan – 203 CFM (good cheap fan but runs loud)
Cost: ~$55-120

Carbon Scrubber
Plant Pots
Nutrients
Most nutrient systems will come with at least one bottle for vegetative and one for bloom. Many nutrient lines carry 3 bottles or even more!
Whether it's on the bottle or online, most nutrient lines come with a schedule. Use the schedule at half-strength in the beginning as the recommended strength is typically too high for cannabis.
Recommended Base Nutrients: General Hydroponics Flora trio (use at half strength) + CaliMagic (use at full strength)
(Optional) Bloom Supplement: General Hydroponics Floralicious Bloom
Cost: $50-100

General Hydroponics Flora Trio and CaliMagic
Other Supplementary Items
Estimated Cost: $471 plus the cost of seeds
Check Out Different Grow Setups!
Examples of Similar Setups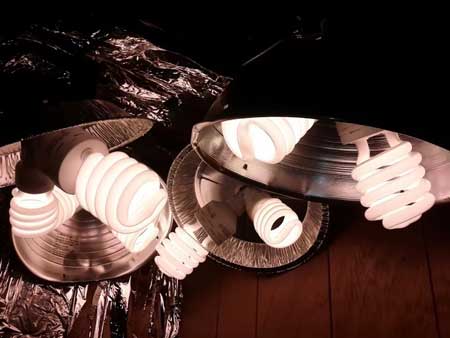 Some growers use a reflector that's been made for CFLs
There are lots of ways to configure CFLs depending on the size and shape of your plants