by Nebula Haze
T5 Grow Lights & Other Fluorescent Tubes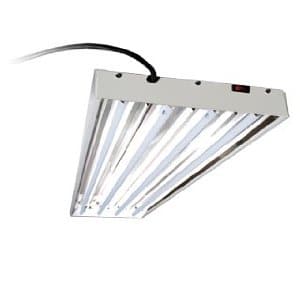 A few years ago, growers usually only used fluorescent tube lighting as a supplemental light for cannabis plants, or for young seedlings and clones only.
In recent years, we've seen the creation of new high-light-output versions of fluorescent grow lights which can actually be used through the entire vegetative stage.
Some growers even use fluroescent grow lights such as the T5 successfully to flower their plants (if the plants are kept short/small enough through growth control methods).
In general, I recommend changing to stronger grow lights like LEDs or HIDs for the flowering stage because they will usually give you double or more yields/watt of electricity. Unless you keep your plants very small, they will need more light to produce buds than a fluorescent light can usually produce. If you're in a dire situation where your plants have grown too big and you can't afford to get a different type of light, you can supplement your fluorescent tubes with additional light, for example you could supplement their light with a few CFL(compact fluorescent light) bulbs wherever you notice any "shadowy" areas. This is only a minor fix – the real fix is to grow very short plants or upgrade to a bigger light for the flowering stage.
Training plants to grow very short will produce the best yields with T5 grow lights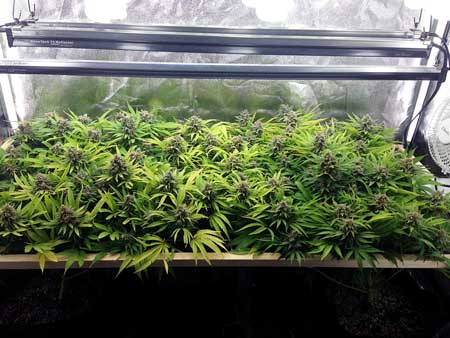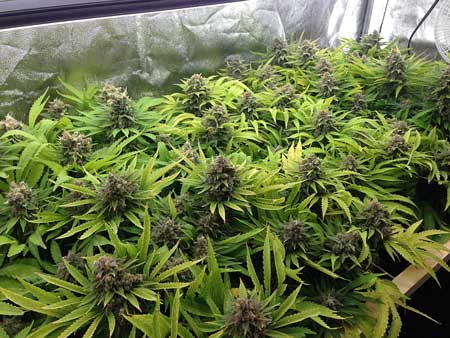 The biggest problem with fluorescent tubing is that the light that they give off is only useful for about a foot or so. That's why they're kept so close to your plants.
T5 grow lights should be kept as close as possible without burning your plants.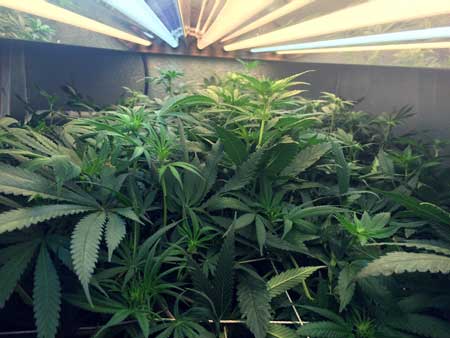 Any part of the plant that is further away then 1-2 feet from the fluorescent grow lights is not getting an optimum amount of light, especially in the flowering stage when plants need a lot of light to produce buds.
With the new high output lights such as the T5, fluorescent lights can be used until the plants are about 24 inches tall, which is just enough to grow a very short plant through to the flowering stage when you control your marijuana plant's growth through the vegetative stage.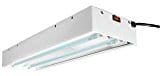 The great thing about fluorescent grow lights is that they don't get very hot, and they can usually be kept 1-4 inches from the tops of the plants at all times without having to worry about burning your cannabis leaves or buds.
The other great thing about fluorescent lights is that they are usually relatively low powered and won't make a huge mark on your electricity bill.
There are many different levels of fluorescent grow lights including the T5, the T8 and the T12. I strongly suggest sticking with the T5 style of fluorescent grow lights for cannabis because they give off the most amount of light for the size, and are specifically designed to be able to support taller plants up to 24 inches.
If the temperature is under control they can be kept as close as an inch or two away.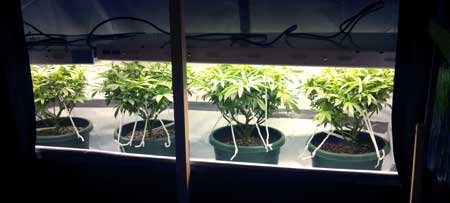 For optimal results, for vegetative growth choose fluorescent light bulbs that are labeled either as "Cool White" or "Cool" colored (also labeled as "6500k" colored).
For flowering, choose bulbs that are "Warm White" or "Soft White" colored (usually labeled as "2500K" or "3000K").
Example of a ScrOG (Screen of Green) Grow Under a T5. Using a screen can be an effective way to create a flat, table-top shape to take the best advantage of T5 grow lights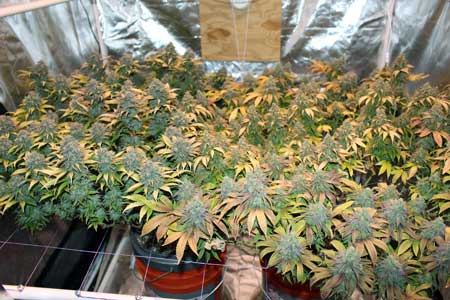 However, you can use either type of lights during either stage and still get good results. People also use "Daylight" (5000K) bulbs with success.
If possible, opt for bulbs labeled as "High Output" (HO). This ensures that you're getting the most lumens (light) from your bulbs. But any T5 bulbs will work – hundreds of cannabis growers have the harvests to prove it!
---
Jump to….
How Much Will Electricity Cost During my Grow?
What Type of Nutrients Work Best?
Stealth Growing: How NOT to Get Caught Growing Weed
---